10 thoughts about the PM's position – BBC News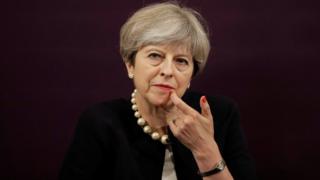 It wasn't meant to be called a "relaunch" or a "fightback" or even a "reset".
The prime minister's speech this morning was, however, the first big speech she has made since the election.
You might, therefore, have expected it to be bold, determined, as she said it would be. You might have expected it to be, at least in part, a genuine mea culpa from the PM for the mistakes of the election campaign.
It was, however, more a rather pedestrian response to the long awaited Taylor review on the changing world of work and insecure employment (insert obvious jokes here) and a restatement of purpose than a dazzling rebrand.
But whatever Theresa May had said this morning, as MPs stagger towards the finish line of this tumultuous year, and stumble towards the sun loungers, she is in trouble.
And Tories will leave Westminster next week with the question of her future very much on their minds – the issue: how long can she survive?
There are some fundamental obstacles to her doing so, but some advantages to her position too (honest). This list is not exhaustive, nor predictive, and may, as is the way of things these days, not age well at all.
Obstacles
1) Smack bang in the middle of her speech Theresa May said she is still convinced that her vision for the country is the right one, and she is completely committed to delivering it. The problem with that is that plenty of her MPs believe that the election result gave the country's verdict on that vision, and it wasn't pretty. They believe simply that she has to change, to show she can be flexible. How can she do that if she refuses to accept that some of her judgements were wrong?
2) The cabinet has big disagreements on a lot of things, most notably of course on Brexit, and since the election they have little compunction in giving their views. Remainer members like the chancellor have not held back from arguing for a more flexible position than the PM's negotiating position as outlined earlier in the year. But others are adamant she must stick. I'm told that in cabinet this morning the foreign secretary urged the PM to reaffirm that the government position remained the Lancaster House speech and that she did so, despite the fact others sitting round the table have been arguing for that approach to bend.
3) There are plenty of would-be rebels who believe they have the numbers on all sorts of issues to force the government to back down. First up could be membership of the European nuclear safety agency, Euratom. The rebels are very confident they have the numbers to get the prime minister to back down without even having to put an amendment down. One cabinet minister told me it would be a sensible move to show willing to compromise on an issue which doesn't raise much public concern, and would not raise too much suspicion of Brexit backsliding. Another source said it was simply now an issue for Number 10, with the Brexit Secretary David Davis understood to be "relaxed" about the issue. Theresa May might end up isolated with only her red lines for company.
4) Some Brexiteer Tory MPs are what's described by a minister as "absolutist" – ready to pounce on any sign of compromise from Theresa May as evidence that she is about to betray their cause. Simply, she is trapped by the parliamentary numbers that dictate she will have to compromise, and by some in her own party who would be ready to condemn any whiff of her doing so.
5) The Tory party particularly has little sympathy for leaders who look like they will damage all of their fortunes. You cannot find Tory MPs who say that she should lead them into the next election. It is a question of when not if. One former minister said she was finished (a much more delicate term than the ex-minister actually used) adding: "We know it, and she knows it too." And as they enter the summer, many believe it would only take one more big thing to go wrong for the plotters to seize their moment.
Advantages (honest)
1) While Tory MPs agree that Theresa May can't stay on indefinitely, they pretty much all agree that they don't want to risk a general election right now. A few sources around the margins argue that a period of opposition is the only thing that will bring true reflection – but the overwhelming sense is that they need at least to stick together until the Autumn, for risking any leadership changes could slam them into another such contest. They worry that by plunging into another internal battle, they would push voters to choose Jeremy Corbyn for Number 10.
2) There is no obvious successor to her. If there was a universally popular and respected alternative leader the situation might feel extremely different. Despite the chatter about all sorts of people, particularly Mr Davis, who is in notably buoyant form, there is no one figure that the party could obviously rally around. For those younger politicians who might hope for the job in a few years' time, there is a cynical – but also strategically understandable – appeal in allowing her to stay on to soak up all the potentially difficult months of Brexit, before being able to appear as a change candidate.
3) Labour, while definitely riding high, are still divided on some issues, and not universally convinced that Jeremy Corbyn is the man for the job in the long term. United, and determined, they could make day-by-day life extremely difficult and uncomfortable for the Tories in Parliament. But it's not clear yet that they will be able to deliver that kind of sustained pressure, nor that they will be able to continue to build support.
4) On the hardest thing of all, Brexit, there have – whisper it – been some signs of compromise on both sides. For example, while the UK folded on its key demand for parallel talks over withdrawal and future relationship, the EU side did concede a phased approach – there is a rather optimistic but well-informed outline of signs of compromise here.
5) Pretty much everyone (including the journalists!) who works in Westminster is exhausted after 12 months of turmoil. One of those knackered MPs suggested this week that last year, May ended up PM by being "the only grown-up in the room" left after the mess of the referendum. No-one else had the energy to fight – and, 12 months on, they suggested, while Mrs May is damaged, no-one wants – yet – to get on another rollercoaster with an unknown destination – at least until they have had a lie down.