3 Filipina-American Journalists Discuss 'My Family's Slave' And Who Gets To Judge It
Tizons personal essay, which detailed his life with a woman he first knew as Lola and eventually identified as his familys slave, quickly went viral.
People reacted emotionally. People acted with outrage. People criticized Tizon for participating in modern-day slavery. People criticized him for telling Lolas story Eudocia Tomas Pulidos story in the first place.
Then, Filipinos began speaking up for themselves in an attempt to explain a culture that many felt the rest of the world simply could not understand.
Filipinos and Filipino-Americans wondered out loud: How could the rest of the world, especially wealthier countries, expect to solve the Philippines social issues without experiencing their painful history and cultural complexities first-hand?
And, more pointedly, who gets to tell Filipinos how their stories should be told?
Once the story saturated the internet, three Filipina-American journalists at HuffPost found ourselves grappling with our own identities and wondered how Tizon and Pulidos stories could be viewed from a more open perspective one that considers privilege, race, culture and class.
So we took our conversation to Slack, a group chat app used in many workplaces. Before you fully dive into the chats, here is a bit on our respective backgrounds:
Carla Herreria, a HuffPost Trends reporter based in Hawaii, has had relatives who have both hired and have been hired as maids. Her parents emigrated from the Philippines to California, where they became citizens and started a family.
Dzana Ashworth, a HuffPost video producer based in New York, was adopted by Jewish parents and born and raised in the U.S. Her parents hired a Filipina caretaker, who is now Ashworths godmother.
Danielle Datu, a HuffPost social editor based in Los Angeles, was born to parents who emigrated from the Philippines to the U.S. to become citizens. Both her parents had hired maids while growing up in the Philippines.
Read snippets below of our conversation, which took place over the course of three days.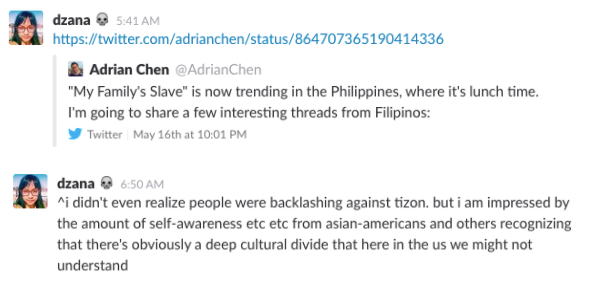 I appreciated that the author was trying to sort out growing up in due cultures and, eventually, reckoning with his guilt over the normalcy of having a slave. Carla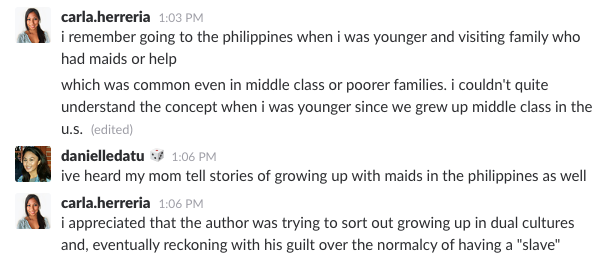 Many Filipinos dont have much, so I wouldnt be surprised if some took people in as help feels like a way for them to take care of each other. Danielle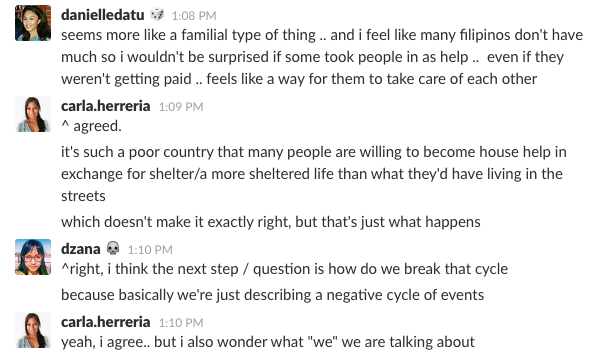 I'm not sure if it's up to non-national Filipinos to decide for a country that has larger problems than we could know. Carla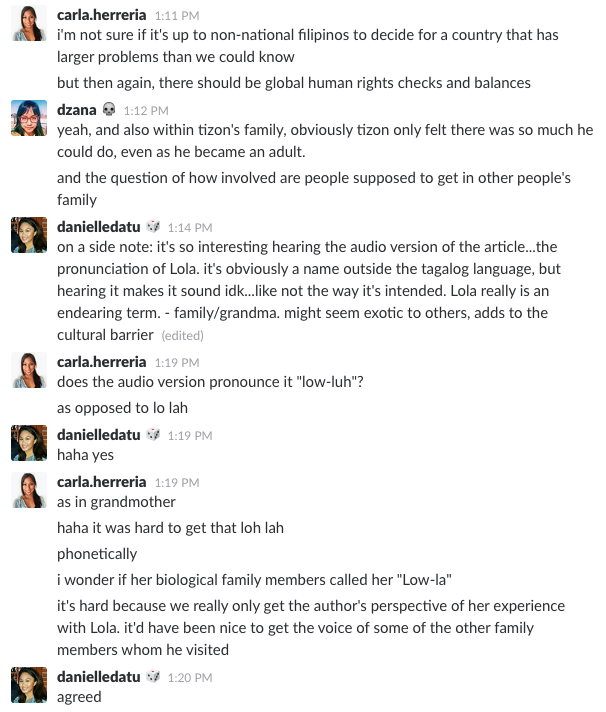 For me, it felt like a very familiar scenario just by virtue of growing up in a Filipino family. Danielle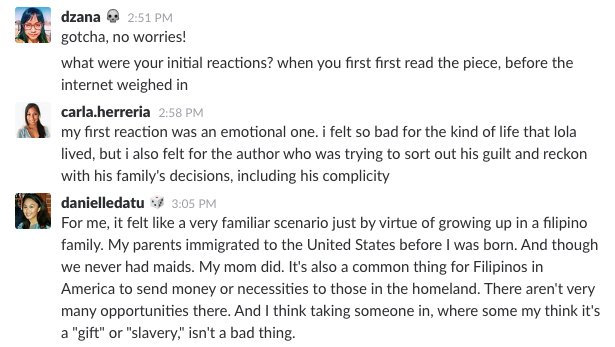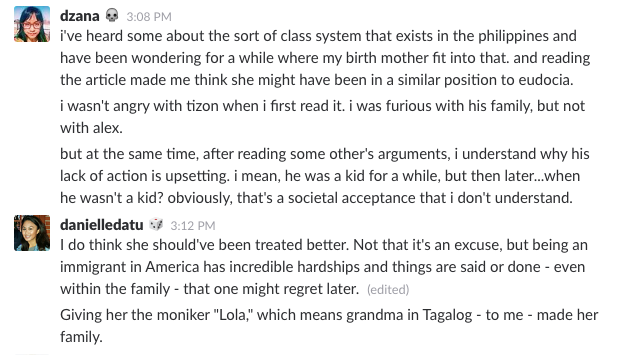 She should've been treated better. Not that it's an excuse, but being an immigrant in America has incredible hardships and things are said or done even within the family that one might regret later. Danielle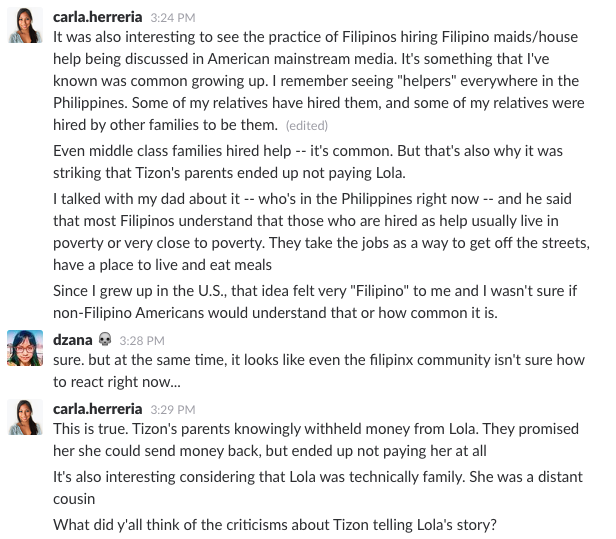 Many of us (non-Asian, or non-Filipinx, or even non-nationals) don't have answers. And that's okay even if it's also unsettling. Dzana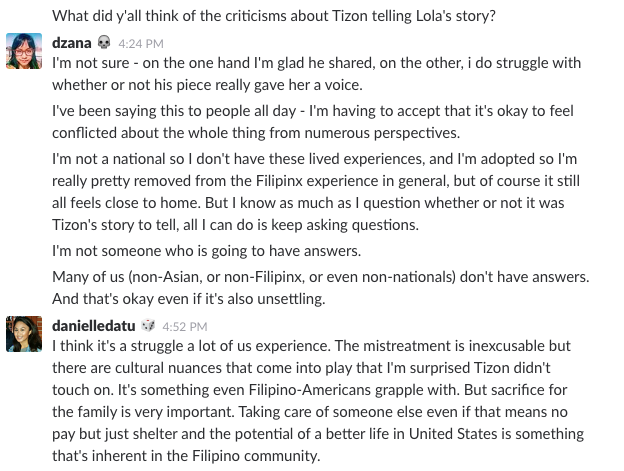 I think it's a conversation that Filipino nationals have to have. They're the ones who understand the complexities of their own country… they're the ones who are hiring or being hired to escape poverty. Carla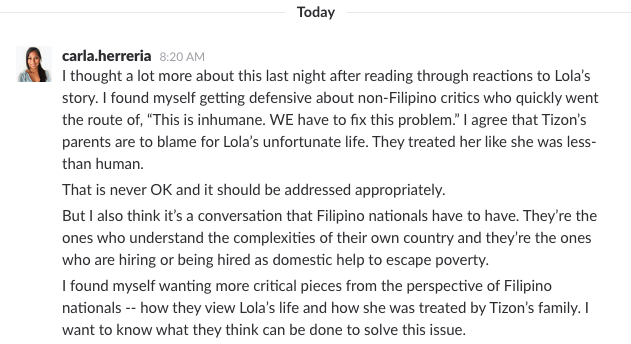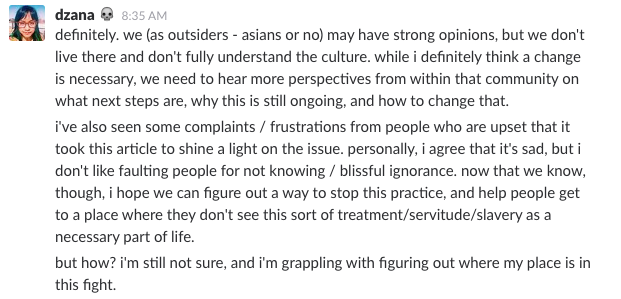 More should be done to ensure that hired domestic helpers have rights and are not treated this way. This is 2017 and it should not be happening. Danielle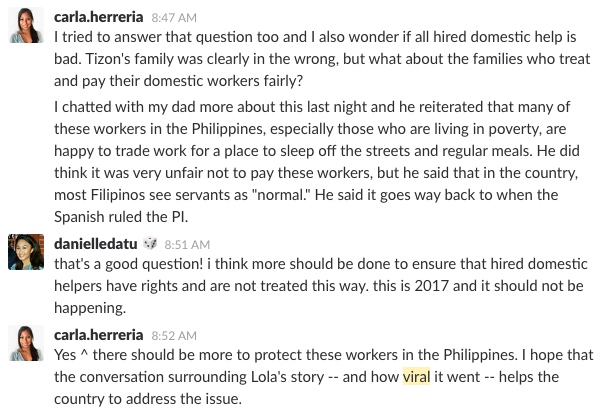 Read all of The Atlantics story, My Slaves Family, by Alex Tizon here.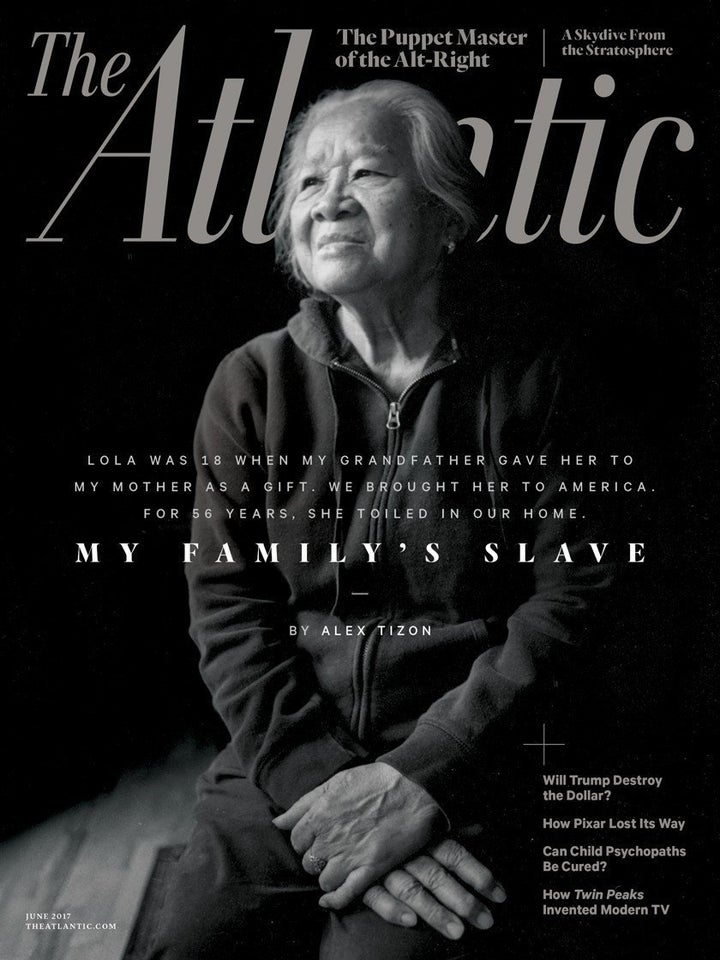 Read more: http://www.huffingtonpost.com/entry/atlantic-slave-story-huffpost-journalists-discuss_us_591deadae4b094cdba5244c5