Benidorm TV star dies on holiday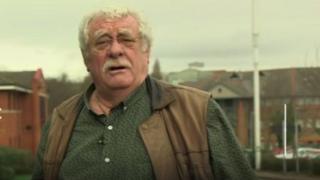 Comedian and actor Bobby Knutt has died on holiday in the south of France, his agent has confirmed.
The 71-year-old from Sheffield starred in ITV comedy series Benidorm, played Albert Dingle in Emmerdale and was the voice of a Tetley tea advert.
Mr Knutt's agent, Tim Scott, said the star died in France on Monday morning.
"Knutty" – real name Robert Wass – had a long career on stage. He appeared in The Comedians and Coronation Street and voiced numerous TV adverts.
More stories from across Yorkshire
A tweet from @BenidormTVShow said: "Benidorm star and Sheffield legend Bobby Knutt passes away aged 71. Good night Knutty, your Benidorm family loves you. X"
Derren Litten, writer of Benidorm, wrote: "Very sad Benidorm news guys. The wonderful Bobby Knutt has passed away suddenly aged 71. Sending our Beni love to his family."
Sheffield actress Rita May, who worked with Mr Knutt, said: "It is a shock. We did the clubs at the same time since the 1960s and we'd often be on the same bill.
"He'd plenty going for him too, he'd just got into a new relationship. It's so sad because he was doing fine."
The pair worked on Ken Loach film, The Price of Coal, in 1976.
"Ken was known as 'Ken-One-More-Time-Loach' and that day filming I had to cook bacon and eggs for Bobby and he had to eat it," Ms May said.
"So there he is eating the bacon and eggs and we kept doing it one more time, one more time.
"Poor Bobby, he was just full of bacon and eggs!"
Mr Knutt also hosted a request show on BBC Radio Sheffield in the 1990s.
His wife, Donna Hartley-Wass, a former Olympic athlete, died suddenly in 2013 at the age of 58 in the couple's back garden in Barnsley while she was sunbathing.
Ms May added that Mr Knutt "got on with everybody".
"There was no side to Bobby, he was a good bloke," she said.
Read more: http://www.bbc.co.uk/news/uk-england-south-yorkshire-41387455