Birmingham pub bomb families reach 10,000 crowdfund aim – BBC News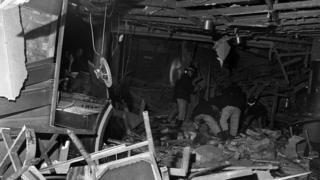 Families of the Birmingham pub bombings victims have have raised 10,000 in six days to challenge a ruling not to name the suspects.
Two bombs detonated in the city centre in November 1974, killing 21 people.
Coroner Sir Peter Thornton QC ruled in July the alleged perpetrators would not be named during new inquests.
Campaigners Justice4the21 say they disagree with the decision and have raised the money to help launch a judicial review.
Birmingham pub bombings: What we know
Justice4the21 spokesperson Julie Hambleton has said without naming the bombers "we may as well not bother having an inquest at all".
The group said it believes the only way to challenge the coroner's ruling on the scope of the inquest is to go to the High Court.
The money will pay for the application and legal work required for a judicial review of the coroner's decision.
Read more: http://www.bbc.co.uk/news/uk-england-birmingham-40891794