Bristol teacher's end-of-term gift – the sweetest present ever? – BBC News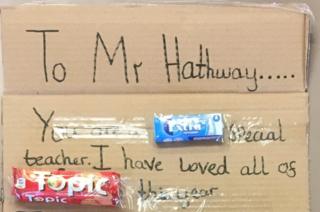 At the end of term some teachers receive special gifts from their pupils, but one in particular was given an especially sweet present from one student.
If actions speak louder than words, in this case, perhaps confectionery is louder still.
The pupil had replaced sweets for some of the words in the message and stuck them on a large piece of cardboard.
It reads (with sweet replacement in capital letters): 'To Mr Hathway. You are an EXTRA special teacher.
'I have loved all of TOPIC this year.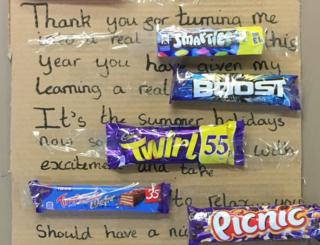 'Thank you for turning me into a real SMARTIES this year.
'You have given my learning a real BOOST. It's the summer holidays now so TWIRL with excitement and take TIME OUT to relax.
'You should have a nice PICNIC but watch out for the LION. Or you could even go on a AERO plane to a TURKISH DELIGHT and just FLAKE out on the beach.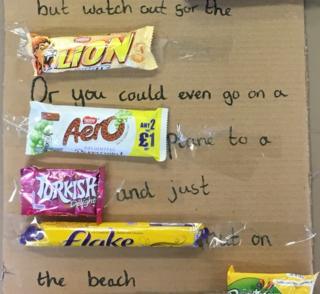 'I'll miss you lots like JELLY TOTS. Your one in a MILLION.'
Rob Hathway, who has been teaching Year 6 pupils at Watermore Primary School in Frampton Cotterell, Bristol, told the BBC he was sad to see his pupils leave but this present will be a treasured reminder of them.
"I was so grateful for teaching such a lovely class.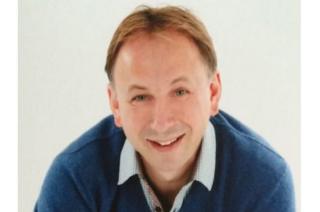 "They've been like an extended family. On the last Thursday of term I received chocolates, cards and wine from my pupils, but when this one was given to me, I was so impressed by how much thought had gone into it.

"There have been some nice characters in class and some extremely helpful children. We had a special bond. I was a bit sad to seem them off but I was just glad that they have done so well and delighted to leave them in a position where they are ready for the next step at comprehensive school.
This creation was high up in the list of unusual presents Mr Hathway has been given previously: "Aside from usual gifts, I was once given a crate of wine when I was teaching in Spain. It turned out that the pupil's father owned a bodega!"
When asked whether he would eat all the chocolate bars, Mr Hathway said he eats chocolate from time to time, but as there is quite a lot he will share it with his family.
Sweet!
Interview by Sherie Ryder, BBC UGC and Social News team.
---
Read more: http://www.bbc.co.uk/news/uk-40748557