C of E attacks Cadbury and National Trust over Easter event – BBC News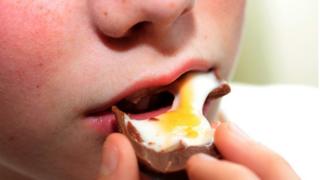 The Church of England has accused Cadbury and the National Trust of "airbrushing faith" by omitting references to Easter from egg hunts.
The Archbishop of York said calling the event the Cadbury Egg Hunt was like "spitting on the grave" of the firm's Christian founder, John Cadbury.
The chocolate maker told the Daily Telegraph that it welcomed people of "all faiths and none".
The National Trust denied it was downplaying the significance of Easter.
The annual egg hunts at National Trust properties around the country over the Easter weekend have been run in partnership with Cadbury for 10 years.
Archbishop of York John Sentamu said John Cadbury, a Quaker who founded the firm in 1824, was renowned for his beliefs.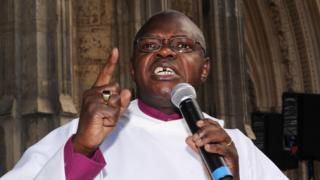 "If people visited Birmingham today in the Cadbury World they will discover how Cadbury's Christian faith influenced his industrial output," said Mr Sentamu.
"To drop Easter from Cadbury's Easter Egg Hunt in my book is tantamount to spitting on the grave of Cadbury."
A spokesman from the Church added: "This marketing campaign not only does a disservice to the Cadbury's but also highlights the folly in airbrushing faith from Easter."
'Dozens of references'
A spokesman for the National Trust said the suggestion it was downplaying the significance of Easter "could [not] be further from the truth".
"A casual glance at our website will see dozens of references to Easter throughout," he said.
"[Cadbury] proved consistently popular with our members and visitors. As part of its wider marketing activity at Easter, Cadbury's will always lead on the branding and wording for its campaigns."
In a statement to the Telegraph, Cadbury said it used the phrase Easter across its promotional material, adding: "We invite people from all faiths and none to enjoy our seasonal treats."
Read more: http://www.bbc.co.uk/news/uk-39487307