Calls to save 'frightened' dog that bit four people in Storm Doris – BBC News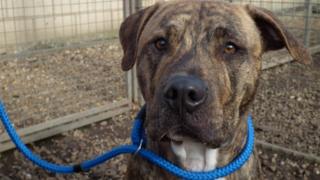 A police force has come under fire for plans to put down a dog that bit four people after it escaped from a garden during Storm Doris.
Northamptonshire Police has applied for a Civil Destruction Order for Muppet – seized from Ingleborough Way, Duston, near Northampton, on 23 February.
The force announced the move on its Facebook page and has had 129 comments to date, most attacking the decision.
Police said letting the dog live was not a "safe option".
The dog's owner has refused to sign a destruction order, so a hearing will take place at Wellingborough Magistrates' Court on 15 October.
'Poor dog'
In total, four people were bitten and needed medical treatment.
Sgt Liam O'Neil said: "Letting the dog back was not an option. There were too many victims for this to be considered a safe option."
On the Facebook page, one man said: "Hardly the dogs fault when the fence blows down in a storm, the dog was probably fearing for itself.
"[The] way things are at the minute, I'd probably bite someone through fear of getting harmed.
"Poor dog, and as for putting a picture of it up that's just stupid, (like saying) 'this is the cute dog we're going to kill'."
'Needs a cuddle, not killing'
One woman said: "Why not try to find an animal sanctuary that would take the dog."
Another woman wrote: "Such a shame for the dog to have to die."
Another man wrote: "I assume that during a storm the dog was frightened to death. Poor dog. Looks like it needs a cuddle not killing!"
Other posters were more supportive of the police. One woman said: " I must say I am in agreement with the destruction order, much as I am sorry for the dog. I don't believe a dog which has gone on the rampage like this can be retrained."
Northamptonshire Police has yet to comment about the criticism on Facebook.
Read more: http://www.bbc.co.uk/news/uk-england-northamptonshire-40880430