Charlie Gard: High Court to hear new evidence in case – BBC News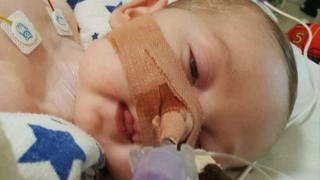 The High Court will hear fresh evidence in the case of terminally-ill baby Charlie Gard later.
Great Ormond Street Hospital (GOSH) has referred the case back to court after reports of new data from foreign healthcare facilities.
Charlie's parents had made several unsuccessful challenges to a decision to end the 11-month-old's life support.
On Sunday his parents handed in a 350,000-signature petition calling for him to travel to the US for treatment.
Charlie inherited the faulty RRM2B gene, affecting the cells responsible for energy production and respiration and leaving him unable to move or breathe without a ventilator.
GOSH describes proposed experimental therapies as "unjustified" and said the treatments being offered are not a cure.
However, the hospital's decision to go back to court came after researchers at two international healthcare facilities said they have "fresh evidence about their proposed experimental treatment".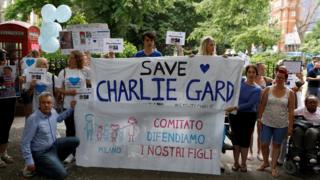 Charlie's mother Connie Yates and father Chris Gard, from Bedfont in west London, said they are determined to continue their fight for their son to have nucleoside therapy.
Mr Gard said they needed a specialist in Charlie's condition and therefore need to send him to America to "give him the chance he deserves".
Ms Yates added: "We have seven doctors supporting us from all around the world.
"There is up to 10% chance that this treatment may work and that's a chance worth taking.
"He's our son, he's our flesh and blood. We feel that it should be our right as parents to decide to give him a chance at life.
"There is nothing to lose, he deserves a chance."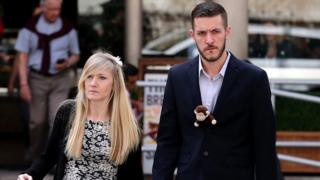 US President Donald Trump and the Vatican have supported the parents' campaign for Charlie to be treated abroad, but a leading expert has described interventions from high-profile figures as "unhelpful".
Professor Neena Modi, president of the Royal College of Paediatrics and Child Health said in an open letter that Charlie's situation is "heartbreaking" for his parents, but added that even well-meaning interventions from outsiders can be unhelpful.
Mr Gard said: "If we won the court case and we got to America, and then within the first week of treatment he started suffering and he was in pain, we would let him go.
"This isn't about us. This is about Charlie and giving him the chance he needs."
Mr Justice Francis is due to hear fresh submissions on Monday afternoon.
Read more: http://www.bbc.co.uk/news/uk-england-london-40552026