Chiropractor's Car Seat Hack May Just Change Your Life
Parents of infants know that carrying a clunky car seat carrier is an arduous task. Unfortunately, parenting often requires multitasking, forcing adults to lug one around while going about their day.
Despair no more, parents. One chiropractic doctor is changing the baby seat game.
Emily Puente of Bridge Family Chiropractic in Mansfield, Texas, posted a video in April revealing her unconventional hack that relieves pressure on the shoulders and hips. The video was so helpful it went viral this week after Distractify shared Puentes tip with its 3.6 million followers.
As seen in the video below, Puente first squats down so that she can use her knees not her back to help her lift the carrier, which is facing backward. Then, she loops her hand through one side of the car seat carriers handle.
Once her arm is through the loop, she flips her palm face down and presses it against the carrier, using her hand to hold the joint of the handle that connects to the carrier. When she stands back up, Puentes arm is looped through the vertical part of the carriers handle.
This technique, Puente says, is a lot easier than letting the top of the handle rest in the crook of the elbow, which strains the upper back, shoulder and hip.
As soon as we switch to this [technique], its a completely different change in how Im using my body to be able to use and distribute weight from this carrier [when] carrying it around.
Puente says that this method of carrying a car seat is better for your body, but she warned that its not possible on all car seat carrier models.
It has been brought to my attention that one viewer experienced discomfort when attempting this maneuver, Puente recently wrote in an updated post.
I suggest being cleared by your medical professional prior to trying any new regimen if you would like to ensure you are fit to perform actions like the one shown here.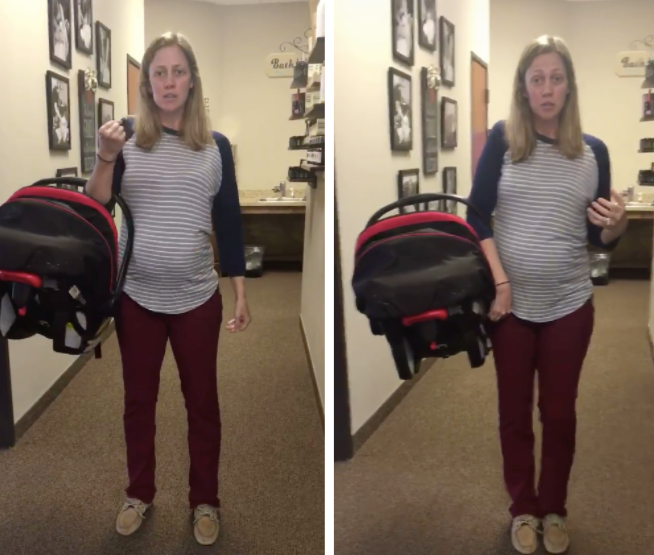 After Puentes friend showed her this technique, the doctor was mind-blown.
Puente filmed and uploaded her tutorial video from her chiropractic office between patient appointments in April. It has been viewed more than 4.9 million times since.
I shared it figuring that Im sure theres some local moms that I can help with this, and then it went really nuts online, she said.
Below, watch Puentes full interview with Good Day for more information on how to use her technique properly.
Read more: http://www.huffingtonpost.com/entry/chiropractor-car-seat-hack_us_59581722e4b0da2c7323f7ca