Cladding to be stripped from Queen Elizabeth University Hospital – BBC News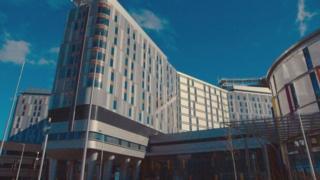 Cladding similar to that used in the fire-hit Grenfell Tower in London is to be removed from Glasgow's Queen Elizabeth University Hospital building.
NHS Greater Glasgow and Clyde said "forensic checks" had identified cladding similar to, but not the same as, that used in the London tower.
The board stressed that the hospital was designed to be "one of the most fire safe buildings in the country".
But they said the cladding would be removed as a "precautionary measure".
Cladding made from an aluminium composite material is thought to have contributed to the rapid spread of the fire which engulfed Grenfell Tower in June.
Scottish local authorities and other organisations have been undertaking checks ever since, with some schools and other buildings found to have used it.
NHS Greater Glasgow and Clyde said that checks by external technical advisors had identified cladding on the hospital, which opened in April 2015, "of a type similar to, but not the same as, Grenfell".
The board said Health Facilities Scotland and their National Fire Advisor had given "renewed assurances" that the hospital was "an extremely safe building", but said panels would be removed "as a purely precautionary measure".
They said this move would "make sure the public, our patients and our staff have full confidence in the safety of the hospital".
'Safety paramount'
Work on removing the panels, which are present in three external sections of the building, will take place "at the earliest possible opportunity".
The board said hospital management teams are working on plans to minimise any impact on patient care.
The Scottish government's working group on building and fire safety, which was set up in the wake of the Grenfell fire, held its fourth meeting earlier on Thursday.
Members – which include Communities Secretary Angela Constance and housing minister Kevin Stewart – discussed the Glasgow hospital cladding, but were reassured by fire service representatives that safety audits of the building were satisfactory.
Health Secretary Shona Robison said: "Patient safety is paramount and that is why further forensic checks are currently taking place across the whole NHS estate in Scotland.
"Following the identification of a type of aluminium composite material on the QEUH of a similar type to, but not the same as Grenfell, I am reassured that NHS Greater Glasgow and Clyde have decided that the material should be removed as a precautionary measure."
Read more: http://www.bbc.co.uk/news/uk-scotland-glasgow-west-40893545