Climber killed by rock fall 'saved wife'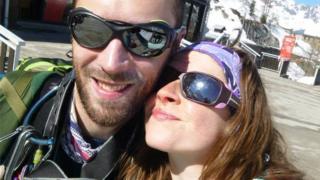 A climber who was killed by falling rocks at Yosemite National Park in California saved his wife's life, his aunt has said.
Andrew Foster, 32, from Cardiff, was trapped while his wife, Lucy, 28, was seriously hurt when granite fell from the El Capitan monolith on Wednesday.
The large "sheet" plummeted from a height of 200m (656ft).
Mrs Foster has since told family she was only alive because her husband saw what was happening and shielded her.
Gillian Stephens, Mr Foster's aunt, told the Times newspaper: "She said 'Andrew saved my life. He dived on top of me as soon as he could see what was going to happen. He saved my life'."
She said Mr Foster's parents, Julie and Dave, from Cheltenham, Gloucestershire, had travelled to America to recover their son's body.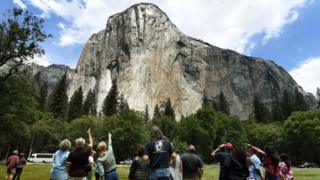 "They are absolutely devastated. I can't tell you how upset they are," she said.
"They are absolutely devoted to their children."
Ms Stephens told the newspaper that her sister Julie, 57, had last week been given the all-clear from breast cancer.
She had taken the couple to Heathrow Airport for the trip to celebrate their first wedding anniversary.
"They were so devoted to each other," Ms Stephens added.
"It really was a love story."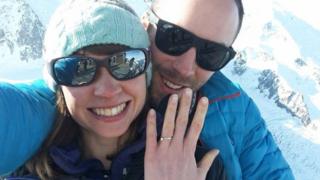 The El Capitan rock formation is the world's largest granite monolith and one of the best-known landmarks in Yosemite.
The pair, found with climbing equipment, are believed to have been scouting out the ascent from a trail when the granite sheet measuring about 40m (131ft) by 20m (65ft) fell shortly before 14:00 local time (21:00 BST) on Wednesday.
Park ranger Scott Gediman said it was a tragic situation of "wrong place, wrong time".
He said Mrs Foster, originally from Staffordshire and who went to school in Market Drayton in nearby Shropshire, was being treated for life-threatening injuries in an area hospital and had been told of her husband's death.
The couple, who lived in Cardiff, got engaged during a skiing holiday in the Alps in 2015 and they married the following year.
They ran their own blog Cam and Bear in which they described their love of the outdoors.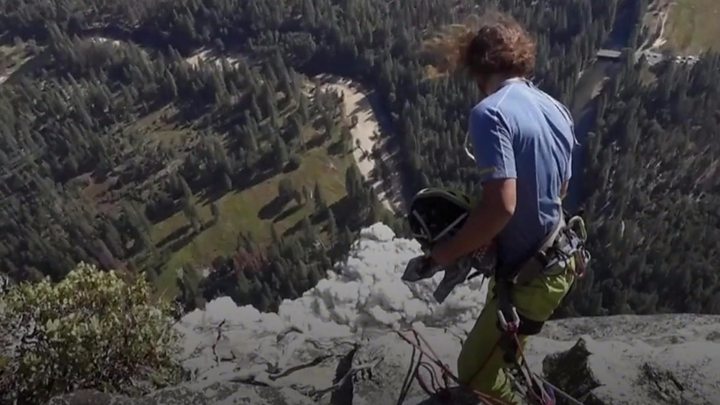 "We are a young married couple who enjoy nothing more than getting out and having adventures in the mountains together," they wrote.
"We are not extreme athletes and describe ourselves simply as passionate weekend warriors."
Staff at the Cardiff-based outdoor store Up and Under, where Mr Foster used to work, said on their return the couple had intended to convert a van into a motorhome so that they could explore the European Alps for the next 12 months.
"Andy Foster was an inspirational member of the Up and Under family," it said in a statement.
"His passion for the outdoors, and mountains in particular, was enormous and infectious."
Mr Foster, who studied engineering at Cardiff University, had gone onto work for clothing company Patagonia, where he was described as a "much-loved member" of the team.
Mr Foster's death is the first fatality from a rock fall in the park in four years, according to the parks service.
A Foreign Office spokesman said: "We're providing support and assistance to both families following this tragic event and remain in contact with local authorities."
Read more: http://www.bbc.co.uk/news/uk-wales-south-east-wales-41452014