Comey Offered Republicans Only The Coldest Of Comfort
WASHINGTON Republicans went hunting for a silver lining Thursday after FBI Director James Comey testified under oath that his firing was allegedly an attempt to alter the Russia investigation Comeys testimony only showed President Donald Trump had hoped to obstruct the probe, not that he did it.
Comey explained repeatedly in testimony before the Senate Intelligence Committee that he believed Trump gave him the heave ho to try and influence the FBIs investigation into the Russian campaign to sway the U.S. election, and especially any probe into former Trump National Security Adviser Michael Flynn.
Its my judgment that I was fired because of the Russia investigation, Comey told the panel. I was fired in some way to change, or the endeavor was to change, the way the Russia investigation was being conducted. That is a very big deal.
According to Comey, Trump had pressed him specifically to drop the probe into Flynn, who was forced to resign after he apparently misled Vice President Mike Pence and other officials about his business dealings with Russians.
While some Democrats started wondering if the overall circumstances amounted to a potential obstruction of justice case Comey said that was a matter for Special Counsel Bob Mueller to decide Republicans decided to parse Trumps specific words.
They seemed especially relieved that the president, in a one-on-one Oval Office discussion with Comey, only said I hope Comey drops the Flynn investigation.
He did not direct you to let it go; He did not order you to let it go, said Sen. Jim Risch (R-Idaho), who expressed pleasure that Comeys written testimony was careful to put quote marks around the request.
Do you know of any case where a person has been charged for obstruction of justice or, for that matter, any other criminal offense, where they said, or thought, they hoped for an outcome? Risch continued.
Comey agreed Trump didnt come out and say obstruct justice, but he did take pains to draw the big picture, stressing repeatedly that as an investigator every detail of their conversation was important including Trump asking Attorney General Jeff Sessions and other advisers to leave the room.
I mean, this is the president of the United States, with me alone, saying, I hope this. I took it as, this is what he wants me to do, Comey said.
Like Risch, Sen. James Lankford (R-Okla.) said if Trump truly wanted to interfere in the investigation, his comments to Comey appeared to be a pretty light touch.
Whats the difference, Lankford asked, between Trump indicating hed like Comey to let go of his investigation into Flynn and the president tweeting his displeasure with the Russian probe as a whole.
Is there any question that the president is not real fond of this investigation? Lankford quipped. Ive heard you share before in this conversation that youre trying to keep the agents that are working on it away from any comment the president might have made. Quite frankly the president has informed around six billion people that hes not real fond of this investigation. Do you think theres a difference in that?
Again, Comey directed Republicans to recognize everything Trump did that one day during their February meeting.
Theres a big difference in kicking superior officers out of the Oval Office, looking the FBI director in the eye, and saying hope you let this go, Comey said. I think if agents as good as they are heard the president of the United States did that, theres a real risk of a chilling effect on their work.
Although Comey often called the entire situation a very big deal, some Republicans tried to suggest that the ex-FBI directors reaction showed it was not.
After Comey testified that he told Sessions he never wanted to be alone in a room with Trump again,Sen. Roy Blunt (R-Mo.) suggested Comeys subsequent actions showed something different, including Comey being willing to take Trumps calls.
What is the difference in being in the room alone with him and talking to him on the phone alone? Blunt asked.
Comey answered that it was similar, so he made sure to inform his own FBI team about them and the deputy attorney general.
Sen. Marco Rubio (R-Fla.) wanted to know why Comey didnt just speak up.
At the time, did you say anything to the president about that is not an appropriate request, or did you tell the White House counsel, that is not an appropriate request, someone needs to go tell the president that he cant do these things? Rubio said.
Comey admitted that when it happened he was stunned and the first thing he thought was to be careful what he said next. He ultimately told Sessions, but the attorney general never said anything.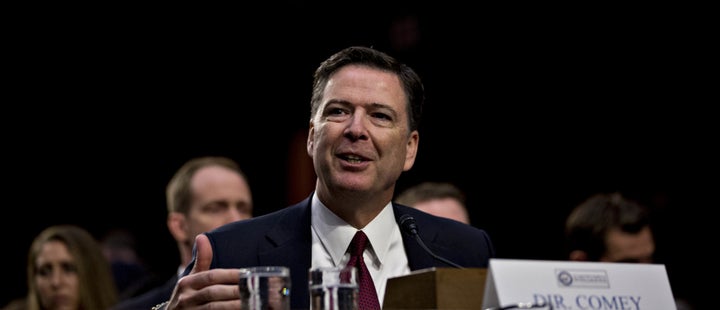 Another tack Republicans tried was suggesting Trump was being treated unfairly. Both Rubio and Blunt argued that it was significant that of all the leaks that kept coming out about Trump, none of them included the information that Comey told Trump three times that the president was not personally under investigation.
Comey didnt comment on the fairness, but did tell Sen. Mark Warner (D-Va.) that while it was technically true that Trump wasnt under investigation, at least one of Comeys colleagues was concerned about telling Trump that because the colleague believe Trumps actions as head of his campaign would fall under the probe.
In perhaps the oddest case of the fairness argument, Sen. John McCain (R-Ariz.) said that it was a double standard for Comey to clear HIllary Clinton in the completed investigation of her private email system, but not to clear Trump in the ongoing Russia probe. McCain seemed to suggest that Clintons emails had something to do with the Russian campaign to influence the election.
Shes one of the candidates, but in her case you say there will be no charges, and in the case of President Trump, the investigation continues, McCain said.
Im a little confused, Comey professed of McCains complaint, noting that the Clinton investigation was long finished.
McCain was asked by reporters later why he thought Clinton should be part of the Russia probe when Russias alleged meddling was directed against her.
Thats what some people say, but whatever, McCain said. She was declared completely innocent of any involvement whatsoever, and theres a whole lot of other questions out there.
Read more: http://www.huffingtonpost.com/entry/comey-offered-republicans-only-the-coldest-of-comfort-reactions_us_5939b8a5e4b0b13f2c68996d