Deliveroo opens door to benefits win for gig economy workers – BBC News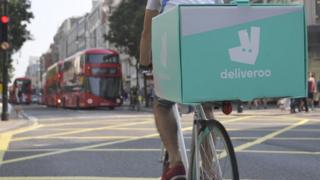 The food delivery firm Deliveroo has said it will pay sickness and injury benefits to its 15,000 riders in the UK if the law is changed.
In a submission to the government's review of the "on-demand" economy seen by the BBC, the firm says that at present the law prevents it from offering enhanced rights because it classifies its riders as self-employed.
Deliveroo says it uses that classification to provide its riders with the flexibility to work when they want.
It says employment rules should be changed so that people who work for companies like Deliveroo and Uber can receive enhanced benefits and not lose that flexibility.
'Reclassified'
Sources say that the firm is willing to looking at enhanced payments to riders to cover things like sickness pay – and that the money would probably be administered under a government controlled scheme similar to national insurance or pensions contributions.
It may mean that Deliveroo riders and others working for similar on-demand firms like Uber are "reclassified" as gig workers.
The move comes after a slew of criticism and court cases against gig economy companies over how they treat people who work for them.
"Central to our popularity with riders and our success as a business is the flexible nature of the work that we offer," the submission says.
"We want to offer riders more security.
"We believe everyone – regardless of their type of contract – is entitled to certain benefits, but we are constrained in offering these at the moment."
'Gig economy' workers 'should get minimum wage'
'Pay self-employed minimum wage'
At the moment "self-employed" workers in the gig economy do not have the right to sickness pay, holiday pay or maternity and paternity leave.
They also are not covered by the minimum wage rules.
That has led to criticism that the people who ride or drive for gig companies are actually "workers" and should receive a wide range of benefits.
And that companies are exploiting loopholes in employment law and lack of enforcement to run their businesses profitably.
Deliveroo says that if it did offer "worker" contracts, flexibility, which is very popular with its riders, would be lost.
Deliveroo riders, for example, are allowed to work for other on-demand economy businesses at the same time.
Which makes it impossible, the firm argues, to guarantee the minimum wage which is based on working for a single employer.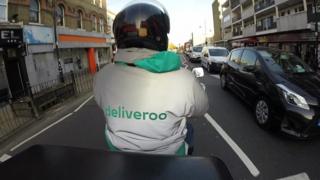 Deliveroo says its riders earn on average 9.50 an hour, 2 more than the National Living Wage.
The firm says it is wrong that riders are at present involved in a "trade-off" between flexibility in the way they work, and the security of full employment benefits.
Company sources have told me that, following moves on sickness pay, Deliveroo would be willing to look at holiday pay, pension rights and maternity and paternity entitlements.
Those rights could be "earned" by riders after a certain number of deliveries have been achieved.
'Trade-off'
"At present, companies in the UK are forced to class the people they work with as either 'employees', 'workers' or 'self-employed'," the submission says.
"Our riders are 'self-employed'. This gives them full flexibility – but the quid pro quo is that they are not entitled to certain benefits.
"In short, there is currently a trade-off between flexibility and security and we want to play our part in overcoming this divide."
Deliveroo is one of a new breed of "on-demand" firms which operate in what is known as the gig economy.
Riders for the firm – 60% of whom are under the age of 25 – log on to the company's digital platform and receive "jobs" delivering food, on a bike or a scooter.
Matthew Taylor, the head of the Royal Society of Arts, was asked by the government to review this new world of work, including the gig economy and zero hours contracts.
He is expected to publish his report imminently on how to reform employment law so that workers can be flexible without being exploited.
Read more: http://www.bbc.co.uk/news/business-40524377