Dyson to make electric cars from 2020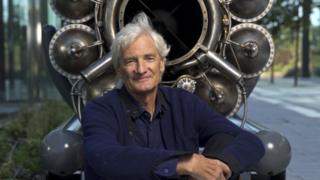 Dyson, the engineering company best known for its vacuum cleaners and fans, plans to spend £2bn developing a "radical" electric car.
The battery-powered vehicle is due to be launched in 2020.
Dyson says 400 staff have been working on the secret project for the past two years at its headquarters in Malmesbury, Wiltshire.
However, the car does not yet exist, with no prototype built, and a factory site is yet to be chosen.
Sir James declined to give further details of the project. "Competition for new technology in the automotive industry is fierce and we must do everything we can to keep the specifics of our vehicle confidential," he told staff in an email.
Important points that are undecided or secret include the firm's expected annual production total, the cost of the car, or its range or top speed.
Sir James said about £1bn would be spent on developing the car, with another £1bn on making the battery.
---
Analysis: Richard Westcott, BBC transport correspondent
It was a slightly unusual launch, but then, Sir James Dyson likes to be different.
In a small room above his swanky London shop he told us about his vision for a clean car.
First up, we were treated to an old clip of Blue Peter, from the 90s, where Anthea Turner interviewed him about his new device to clean soot from the exhaust of diesel vehicles… it was the cyclone from his vacuum cleaner, put to a different use.
"That is how long I have wanted to do this," he told us.
In fact he first hatched the idea in the late 1980s.
Since then, he has developed motors and batteries and now he is able to bring all that expertise together in a new, electric car.
He promised that it will be radical and different, because, as he put it, what is the point of making it like any other car?
And he promised that it will not be cheap.
I did ask how much it would be to put down a deposit… he told me he would have to think about it.
---
Further development work will take place at a former RAF base at Hullavington in Wiltshire, where staff will move to in February.
Sir James also said that his firm's car would look "radical and different", but will not be aimed at the mass market.
The motor is designed and ready to go, he said, but the firm is still designing the car.
Dyson's decision means it is joining the rush within the global car industry to develop and make electric cars.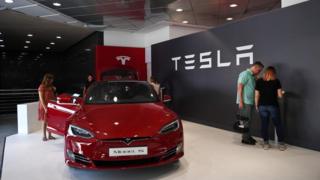 Some manufacturers such as Nissan, Tesla, Renault, BMW and Hyundai already manufacture them.
Others such as VW, Volvo, Mercedes, Honda and Jaguar Land Rover have announced plans to sell electric or hybrid versions of their existing petrol and diesel engine ranges.
VW, for instance, plans to spend 20bn euros (£17.5bn) by 2030 to develop its battery powered vehicles.
Sir James said he had been interested since 1990 in developing filtration technology to stop vehicle diesel emissions polluting the environment.
But as the motor industry had shown no interest in adopting this idea, he would instead join the fast-growing trend to make electric vehicles.
---
Analysis: Theo Leggett, BBC business correspondent
The electric car market is growing rapidly, but it is also about to become a lot more crowded.
Within the next few years, many new models are due to come on to the market, including Jaguar's Ipace, Porsche's Mission E, Volkswagen's I.D. family and Mercedes' EQ range. Tesla also has big plans for its recently launched Model 3.
They will be joining established models such as the Nissan Leaf, the BMW i3, the Renault Zoe and the Tesla Model S.
Dyson clearly sees an opportunity here. As new designs become available, and prices come down, more consumers will be willing to try electric vehicles.
Policymakers, concerned about air pollution, want them to do just that.
The big question is whether Dyson can muscle in on territory that the major manufacturers are already trying to make their own. And let's not forget Google's designs on the electric/self-driving market.
Tesla was able to build a new car brand from scratch, but only by producing a design which effectively moved the goalposts and changed people's expectations of what an electric car could provide.
If Dyson wants to play with the big boys, it may have to pull off a similar trick.
---
Read more: http://www.bbc.co.uk/news/business-41399497