Flights axed as Monarch ceases trading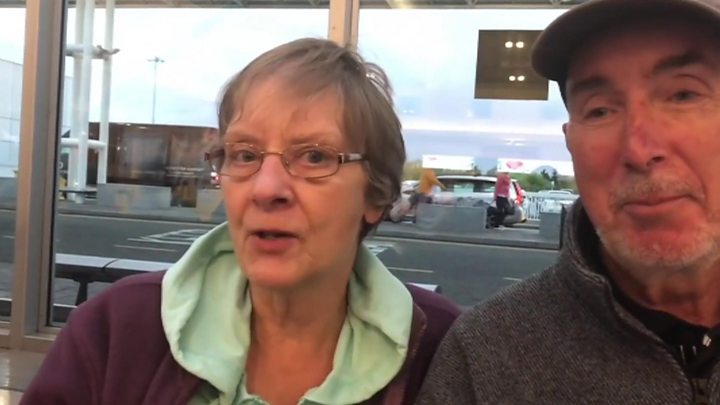 Monarch Airlines has ceased trading and all its future flights and holidays have been cancelled, affecting hundreds of thousands of customers.
About 860,000 people have lost bookings and more than 30 planes will be sent by the Civil Aviation Authority to return 110,000 holidaymakers who are overseas.
Monarch employs about 2,100 people and reported a £291m loss last year.
Terror attacks in Tunisia and Egypt, increased competition, and the weak pound have been blamed for its demise.
Theresa May's official spokesman said the prime minister "feels hugely sorry" for those affected by a "very distressing situation".
Monarch – the UK's fifth biggest and the country's largest ever to collapse – was placed in administration at 04:00 BST – a time when the airline had no planes in the air.
Passengers were then sent text messages informing them flights had been cancelled – but some customers were already at airports.
Who has been affected?
Alan Jee was due to get married in Gran Canaria on Saturday and arrived at Gatwick airport with 30 members of his family.
"I have spent £12,000 on my wedding and now I can't even go and get married," he said. "I am gutted, absolutely gutted, and my missus is in tears, an emotional wreck."
Meanwhile, Mike Olley had been due to fly back to Birmingham from Malaga, in Spain, on Monday.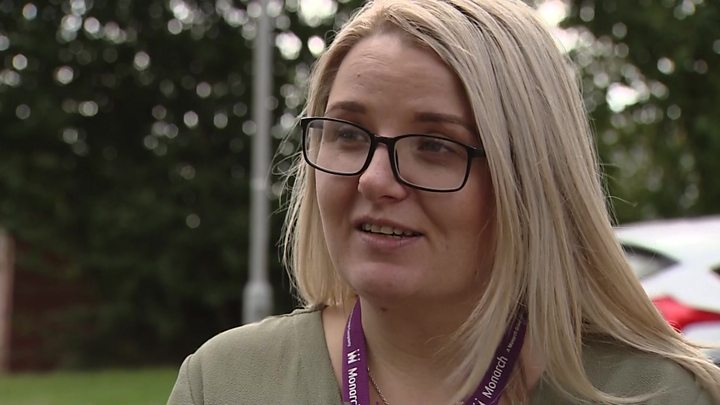 "We got a text this morning saying that Monarch had gone out of business," he told the BBC.
"I thought it was a prank. Our flight is at 12:15 back home today. We haven't got any information on our flight yet."
John Shepherd, from Tamworth, had been due to fly to Cyprus on Tuesday with his 92-year-old father.
He said they had already managed to book flights on another airline – costing a "fair bit of money", but he added: "I'm worried we've lost all the money on the flights."
Holidaymakers and staff 'devastated' by airline collapse

Advice to Monarch customers
Customers in the UK yet to travel: Don't go to the airport, the CAA says
Customers abroad: Everyone due to fly in the next fortnight will be brought back to the UK at no cost to them. There is no need to cut short a stay. Those with flight-only bookings after 16 October are unlikely to have Atol scheme protection, so will need to make their own arrangements
Customers currently overseas should check monarch.caa.co.uk for confirmation of their new flight details – which will be available a minimum of 48 hours in advance of their original departure time
All affected customers should keep checking monarch.caa.co.uk for more information
The CAA also has a 24-hour helpline: 0300 303 2800 from the UK and Ireland and +44 1753 330330 from overseas
---
What has gone wrong?
Monarch reported a loss of £291m for the year to October 2016, compared with a profit of £27m for the previous 12 months, after revenues slumped.
It had been in last-ditch talks with the CAA about renewing its licence to sell package holidays, but failed to reach a deal.
Blair Nimmo, from administrator KPMG, said its collapse was a result of "depressed prices" in the short-haul travel market, alongside increased fuel costs and handling charges as a result of a weak pound.
However, Monarch chief executive Andrew Swaffield said the "root cause" was terrorism in Egypt and Tunisia, as well as the collapse of the market in Turkey.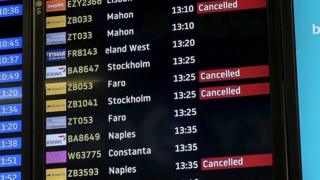 He said it had been carrying 14% more passengers than last year – but for £100m less revenue.
Mr Swaffield said employees could "hold your heads up high and be proud of what you achieved".
Monarch's owner, Greybull Capital, had been trying to sell part or all of its short-haul operation so it could focus on more profitable long-haul routes, and said it was "very sorry" it had not been able to turn around its fortunes.
What have the authorities said?
The CAA said the situation was "unprecedented".
Chairwoman Dame Deirdre Hutton said there would inevitably be some disruption as the authority was having to effectively create one of the UK's largest airlines from scratch, adding: "It is a huge undertaking."
Passengers from as far away as Tel Aviv will require flights home.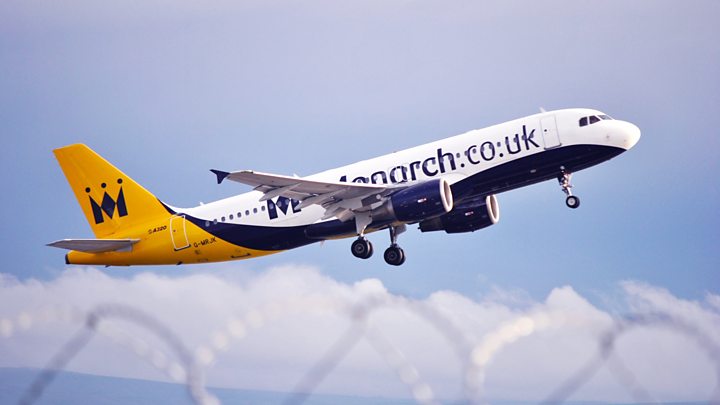 Mr Grayling the process of returning holidaymakers to the UK was the "biggest peacetime repatriation" effort.
"This is a hugely distressing situation for British holidaymakers abroad – and my first priority is to help them get back to the UK."
The transport secretary said the Department for Work and Pensions would give support to those affected and other airlines had already told him they may seek to employ Monarch staff.
Mr Nimmo, from KPMG, said Monarch employees had not been told before the firm went into administration and advised them to go to work as usual on Monday.
Where are Monarch holidaymakers?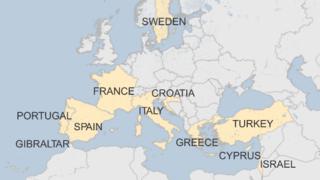 Last year, Monarch carried 6.3 million passengers to 40 destinations from Gatwick, Luton, Birmingham, Leeds-Bradford and Manchester airports.
According to the CAA, the 110,000 holidaymakers currently overseas are in at least 11 countries, including Spain, Portugal, Italy and Greece.
Replacement flights are currently scheduled to fly to 33 airports.
Two "rescue flights" from Ibiza have already landed at Gatwick, the CAA said. The vast majority of customers due to fly on Monday are expected return by the end of the day.
---
Have you got a flight booked with Monarch? Are you Monarch staff? Email us at haveyoursay@bbc.co.uk.
Please include a contact number if you are willing to speak to a BBC journalist. You can also contact us in the following ways:
Read more: http://www.bbc.co.uk/news/business-41464934