Four killed in motorway lorry crash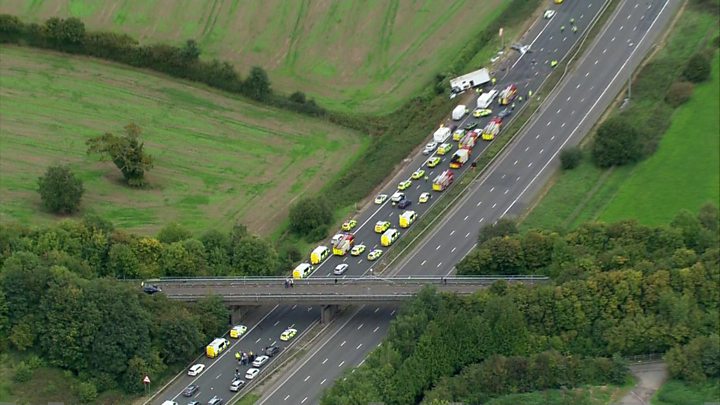 Four people have died in a crash on the M5.
Police said a lorry travelling southbound crashed through the central reservation and hit at least two vehicles heading the opposite way.
A woman and two children were also injured in the crash and taken to hospitals in Bristol, where they are in a life-threatening condition.
Emergency services were called just after 14:30 BST on Saturday to junctions 15 and 14 in Gloucestershire.
The lorry driver was taken to hospital to be checked over as a precaution.
The motorway was shut for hours after the crash in both directions between junctions 16 and 14 to allow the recovery operation and investigations to be carried out.
The southbound side of the carriageway reopened at about 05:30.
Highways England said it expected the northbound side to remain shut throughout Sunday.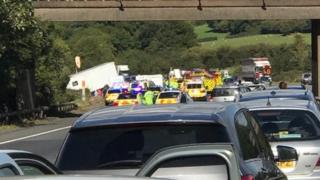 Supt Simon Ellis, of Avon and Somerset Police, said the rescue and recovery operation was "painstaking work".
"Our priority is to ensure the victims' next of kin are notified and supported, as well as the ongoing management of the scene, and this important work is ongoing," he said.
Supt Ellis thanked the emergency services, as well as members of the public who "courageously went to the aid of those involved" in the crash.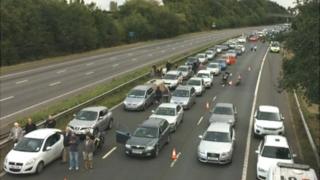 Cardiologist Dr Amer Hamed was in a car travelling "10 to 20 seconds behind" when the crash happened.
He was one of the first at the scene along with a passing GP and other medics to help an injured woman who was in one of the cars.
Paramedics arrived on the scene about six minutes later and the woman Dr Hamed had been helping was taken away by ambulance to hospital.
He said: "There was a lorry involved and at least two other cars. One was absolutely destroyed and another had flipped over."
He said motorists who had been stuck on the carriageway for several hours were "very helpful".
"People are helping as much as they can," he said.
"Several people offered us water and one man came out of his car to give food. We're going to be stuck here for a few hours yet."
South Western Ambulance Service said it was called just after 14.30 BST.
---
BBC reporter at the scene – Chris Kelly
The most striking thing about the scene is the almost complete silence here.
Looking over the bridge, the police, fire and ambulance crews are patiently doing their work at quite a disturbing scene.
The lorry that has crashed has hit what M5 commuters will know as a familiar landmark, a windsock next to the road. But alongside that are several cars crushed from the impact.
On the other side of the bridge, motorists patiently wait with some eager to help. I overheard one asking if any prayer support was needed. While others talk to police officers about the sadness of what has happened.
---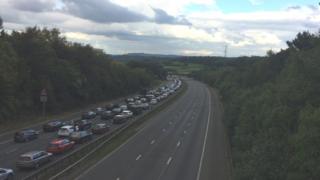 Read more: http://www.bbc.co.uk/news/uk-england-gloucestershire-41294963