Hereford munitions workers honoured after 75 years – BBC News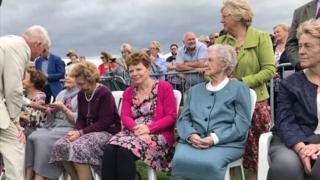 More than 30 workers who risked their lives building munitions during World War Two have been honoured.
Thirty-one women and one man who worked at factories in Herefordshire received commemorative badges at a presentation.
A campaign to honour munitions workers, many of whom were women and known as "Canary Girls" because the chemicals turned their skin and hair yellow, is ongoing.
A military historian said the workers' role was "very important".
Dangerous explosives
Andy Taylor, from the Herefordshire Light Infantry Museum said: "We finally saw the Women's Land Army recognised recently and the munitions workers' job was as important, if not more so.
"They had to produce the arms and ammunition which was taken to the frontline to actually engage in combat."
Most of the recipients, who are aged between 94 and 104, worked at the Royal Ordnance Factory at Rotherwas, which was bombed in 1942.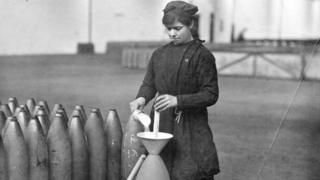 There were also sites at Barronia Works, Haywood and Credenhill.
The workers worked with dangerous explosives and chemicals, faced the threat of being bombed and suffered long lasting health problems due to exposure to chemicals, such as jaundice, loss of teeth and loss of fertility.
The badges, provided by BAE Systems, were presented at a ceremony at Herefordshire Country Fair.
MP Bill Wiggin has taken BBC Hereford & Worcester's campaign for the munitions workers to be formally honoured to Parliament and discussed it with the prime minister.
Read more: http://www.bbc.co.uk/news/uk-england-hereford-worcester-40828688