Here's Why Democrats Are Not Storming The Gates, Demanding Impeachment
WASHINGTON President Donald Trump fired the FBI director in charge of investigating his associates ties to Russia. The next day he gave Russians classified information in the Oval Office. And now its reported that Trump asked then-FBI Director James Comey to let go ofan inquiry on the Russian entanglements of fired national security adviser Michael Flynn.
That leaves out a lot, but just from those facts, some Republicans are starting to use the word Watergate to describe the scope of unfolding revelations about Trump.
Yet few Democrats at this point are using the word that describes what Watergate was leading to: impeachment.
Im not there, Rep. Elijah Cummings (D-Md.) told reporters Wednesday. I just want to get the information.
Im not afraid of the I-word, said Rep. Joe Crowley (D-N.Y.). Independent independent commission.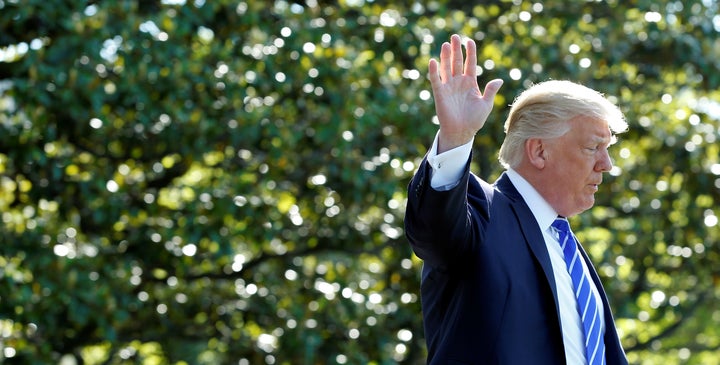 It might seem like a surprisingly reticent approach for a party that could stand to benefit politically. But Democrats are also looking at history and the damage the last impeachment proceedings, against President Bill Clinton, did to both the country and political parties involved. They find themselves walking a fine line between legitimate freak-out and overreach, and they do not want to blow it.
If lawmakers get ahold of Comeys Trump memo and others he reportedly wrote, and they confirm Trump tried to coerce the former FBI director, it should add pressure against Trump without Democrats having to manufacture it. If the facts lead Congress toward impeachment, Democrats want to make sure all of the evidence is lined up, and, well, unimpeachable.
The strategy to avoid Dump Trump talk is such a deliberate stance that when Rep. Al Green (D-Texas) took to the House floor Wednesday to call for impeachment, he ended by noting his was a voice in the wilderness, at least for now.
And there are certainly Democrats who do not feel constrained. Rep. Maxine Waters (D-Calif.) mentioned, as she has before, the possibility of impeachment Tuesday. We dont have to be afraid to use the word impeachment, she said.
But most Democrats are exercising what appears to be genuine caution around something so momentous. Just to be sure, there have been talking points circulated to the Democratic talking heads who may get questions about impeachment.
The suggested response is: Thats not a question that can be answered until we get more facts. We need Director Comey to testify in a public hearing, all memos and tapes turned over, a special prosecutor to be appointed and an independent commission to take this investigation outside of Congress, according to a memo from a Democratic operative.
It sounds an awful lot like the words that are in fact coming from the mouths of lawmakers.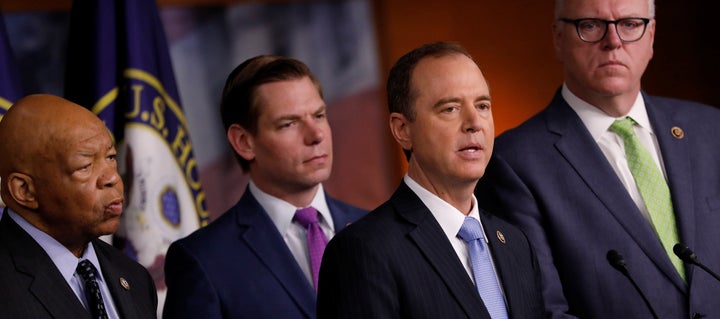 But that doesnt necessarily make the tactic cynical. Democratic sources asked about the reluctance to leap to the impeachment argument said that trying to use Trumps current, not-fully-known troubles as fodder to remove him would actually undercut the seriousness of what Democrats fear the country is facing.
The worst thing Democrats could do is to make this move too early. There are many unanswered questions and facts to be learned and revealed, one Senate Democratic aide said, speaking anonymously to discuss the private thinking of lawmakers. Its a serious step and requires a full understanding of the facts before making the leap.
There is a precedent for a take-it-slow approach. Looking back at the impeachment case against Clinton which became almost entirely partisan and ultimately focused on conduct that didnt involve his official duties the then-GOP leaders, Newt Gingrich in the House and Trent Lott in the Senate, went out of their way to urge Republicans not to raise the issue of impeachment. Indeed, the House did not vote to start the process until a month after an independent counsel released the full investigation.
The ongoing case against Clinton also backfired, with Democrats picking up seats in the 1998 midterm election when they had been expected to lose many.
You are empowering Trump surrogates if you first go to impeachment. senior Democratic aide
Democratic strategists see a similar danger in trying to overreach in the case against Trump.
You are empowering Trump surrogates if you first go to impeachment, said a senior Democratic aide who requested anonymity to discuss congressional reasoning. Thats all they have been trying to harp on over and over again Democrats are sore losers, they want to nullify the results of the election, they want to impeach this president. Thats what they are using to motivate their base.
And, theaide said, starting an impeachment drumbeat now undercuts the arguments for getting full, fair investigations from an independent counsel and a 9/11-style commission.
Republicans are not going to support these things if all were talking about is impeachment. It is damaging to the effort to secure these independent investigations, the aide said.
Lawmakers also were adamant that launching premature talk about removing the president does more than muddy the political waters. It also has the potential to drive an even deeper wedge of distrust and anger into the already divided population.
Rep. Adam Schiff (D-Calif.), ranking member on the House Intelligence Committee, said Congress members need to ask themselves if they want to discharge their duties and whether Trumps actions call for removal from office.
In order for that remedy to be appropriate, the country has to believe that the series of conduct is such that this president cannot continue in office, Schiff said. It cannot be perceived as an effort to nullify the election by other means.
Sen. Dianne Feinstein (D-Calif.), ranking member on the Senate Judiciary Committee, wouldnt say if what Trump asked of Comey was an impeachable offense because senators dont know if it actually happened or the depth and breadth of it, she said.
Ive been through an impeachment hearing, and theyre not good for the country let alone the individual. And until we know much more than this, it should remain where it is today off the table, Feinstein said.
Asked why Democrats were comfortable with pursuing an independent commission to investigate the presidents conduct concerning the ongoing FBI probe when such bodies are known to take years to finish their work, Cummings replied: to get it right.
We are at a very significant moment in this countrys history. This is our watch. So if it takes a year, if it takes two years, if it takes three years, we need to get this right. Yeah, it may take a little time, but this is not about us; this is bigger than us; this is bigger than President Trump. This is about the soul of our democracy, Cummings said. Will it lead to impeachment? I dont know. But one thing is for sure … if there was a moment that we needed to leave our party hats outside the door, this is that moment.
Sam Stein contributed to this report.
Read more: http://www.huffingtonpost.com/entry/democrats-impeachment-not-demanding_us_591cbbe4e4b094cdba50d952