Homeless rise 'driven by welfare reforms'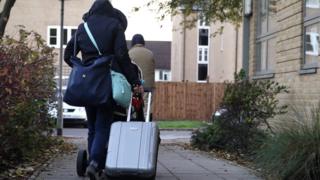 The number of homeless families in the UK has risen by more than 60% and is "likely to have been driven" by the government's welfare reforms, the public spending watchdog has said.
Homelessness of all kinds has increased "significantly" over the last six years, said the National Audit Office.
It accused the government of having a "light touch approach" to tackling the problem.
The government said it was investing £550m by 2020 to address the issue.
There has been a 60% rise in households living in temporary accommodation – which includes 120,540 children – since 2010/11, the NAO said.
A snapshot overnight count last autumn found there were 4,134 rough sleepers – an increase of 134% since the Conservatives came into government, it added.
Four-year freeze
A report by the watchdog found rents in England have risen at the same time as households have seen a cut to some benefits.
Homelessness cost more than £1bn a year to deal with, it said.
Reforms to the local housing allowance are "likely to have contributed" to making it more expensive for claimants to rent privately and "are an element of the increase in homelessness," the report added.
Welfare reforms announced by the government in 2015 included a four-year freeze to housing benefit – which was implemented in April 2016.
Auditor General Sir Amyas Morse said the Department for Work and Pensions had failed to evaluate the impact of the benefit changes on homelessness.
"It is difficult to understand why the department persisted with its light touch approach in the face of such a visibly growing problem.
"Its recent performance in reducing homelessness therefore cannot be considered value for money."
'National scandal'
The ending of private sector tenancies – rather than a change in personal circumstances – has become the main cause of homelessness in England, with numbers tripling since 2010/11, said the NAO.
Its analysis found private sector rents in England have gone up by three times as much as wages since 2010 – apart from in the north and East Midlands.
While in London, costs have risen by 24% – eight times the average wage increase.
Councils spent £1.1bn on homelessness in 2015/16 – with £845m going to pay for temporary accommodation, the NAO said.
It found that local authorities in London have been buying properties outside the capital to house families.
Labour MP Meg Hillier, who chairs the Public Accounts Committee, said: "It is a national scandal that more and more people are made homeless every year.
"This reports illustrates the very real human cost of the government's failure to ensure people have access to affordable housing."
The Local Government Association – which represents councils – said local authorities were having to house "the equivalent of an extra secondary school's worth of homeless children in temporary accommodation every month."
"The net cost to councils of doing this has tripled in the last three years, as they plug the gap between rising rents and frozen housing benefit."
It called on the government to support councils by allowing them to invest in building affordable homes and "provide the support and resources they need to help prevent people becoming homeless in the first place".
'Safety net'
Homelessness charity Shelter said it wants the government to end the freeze on housing benefit and commit to building affordable homes.
The government said tackling homelessness was a "complex issue" but it was determined to help the most vulnerable in society.
It said it was implementing the Homelessness Reduction Act which "means more people get the help they need earlier to prevent them from becoming homeless in the first place".
A spokesman added: "Our welfare reforms restore fairness to the system with a strong safety net in place to support the most vulnerable, including £24bn through the housing benefit.
"There's more to do to make sure people always have a roof over their head and ministers will set out further plans shortly, including delivering on our commitment to eliminate rough sleeping entirely."
---
Are you homeless? Living in temporary accommodation? Share your views and experiences by emailing haveyoursay@bbc.co.uk.
Please include a contact number if you are willing to speak to a BBC journalist. You can also contact us in the following ways:
Read more: http://www.bbc.co.uk/news/uk-41241021