House Republicans Were Handed A Historic Opportunity. They're Blowing It.
WASHINGTON House lawmakers are heading out of town for two weeks with a health care bill in tatters, a government funding deadline looming, and a White House and congressional leadership apparently unable to find consensus or face reality. But, according to House Republicans, everything is just fine.
Its going great! Were making America great again, Rep. Ken Buck (R-Colo.) told The Huffington Post on Thursday when asked how things in the House were going.
Were making progress on all those things, Rep. Jody Hice (R-Ga.) said. When you have a bill thats not ready for prime time, the best thing for the American people is that we back up and get it right.
Time and again, Republicans praised leadership for slowing down the health care debate, and they insisted that no part of their agenda had slipped.
Even Speaker Ryan (R-Wis.), who presented Republicans with a timeline at the beginning of the year that had them finished with their health care bill before the Easter break, said Republicans were still on schedule.
We have in our timeline lots of flexibility built in, Ryan said. You know why? Because we have to work with the United States Senate.
If Republicans really do insist on passing health care, its easy to see how their entire agenda could be foiled. There are only 47 legislative days before the August recess after House Republicans return from their April break. The omnibus spending bill will chew up the first week of the schedule. Then, if they somehow broke the logjam, theyd still have to debate and pass their health care bill. And then pass another budget which doesnt look like itll be automatic so they can do tax reform. And then Republicans would actually have to do tax reform, an issue that has evaded Republicans arguably for the last 30 years.
And theyre supposed to pass a massive infrastructure bill. And a defense supplement. And 12 appropriation bills.
Things are certain to slip.
In the sense that Republicans arent being jammed into voting on a bill with a 17% approval rating, maybe lawmakers have a right to be encouraged.
For Rep. Justin Amash (R-Mich.), Republicans pumping the brakes on their health care legislation is a good sign.
Its weird to be worried about not rushing enough, which is what they seem to be worried about, Amash said Thursday. We should take our time with it.
But theres still no evidence Republicans can bridge the divide in their conference on much of anything. Lawmakers appear no closer to passage than they were two weeks ago when GOP leaders pulled the health care bill from the floor, and members are heading back to their districts for two weeks. Presumably, dissatisfaction with what Republicans are discussing will further drive the conference away from a functional majority.
One of the most noteworthy critics of Republicans has been reliable Republican Rep. Tom Rooney of Florida. He recently told The Atlantic that, if Republicans cant accomplish something, then its hard to justify why theyre in power.
Ive been here for eight years, Rooney told HuffPost on Wednesday. And for the Republican Party, we need to start passing bills that are positive, rather than just being an opposition or stopping things from happening.
Again, however, most Republicans havent given up hope on their health care bill.
Ive been here for eight years. And for the Republican Party, we need to start passing bills that are positive, rather than just being an opposition or stopping things from happening." Rep. Tom Rooney (R-Fla.)
Most people that I talk to realize that health care is the biggest problem in America, freshman Rep. James Comer (R-Ky.) said Thursday. It was a problem before Obamacare. Its gotten worse after Obamacare. And they realize its not going to be solved in a matter of a few weeks; its going to be a several month process.
One member who spoke on the condition he not be identified said that, although there were conservatives and other members who werenot happy with Ryan, no one seemed to be talking about a coup.
It is not Paul Ryans fault at all, Rep. Buddy Carter (R-Ga.) said. This is just simply the process.
When Hice was asked at what point Republicans would start clamoring for leadership changes, he said, Were not at that point.
But reality is about to smack Republicans in the face.
The odds of them actually repealing and replacing Obamacare look worse every day. When they return from their Easter break, theyll have four legislative days to debate and pass an omnibus spending bill that no one has seen with obvious pitfalls all over the legislation. (Will the omnibus fund Planned Parenthood? Will it fund a border wall? How much money above previously set spending caps can Congress accept?)
And, unlike the health care bill, Republicans need Democratic votes at least in the Senate to get a spending measure to President Donald Trumps desk. If conservatives insist on funding the border wall and Democrats say no, who will blink first? And whose side will Trump be on?
While there are easy criticisms you could make of Ryan, senior GOP aides were eager to point out that, ultimately, the GOPs inability to get anything done was a reflection on Trump.
Despite what Paul Ryans detractors think, at the end of the day, this is Donald Trumps Washington now, one senior GOP aide said.
You cant just come in 24 hours before a vote, make some phone calls and expect anything to change, the aide continued, referring to the ill-fated health care bill.
Paul Ryan is the only thing holding this place together. Its just one distraction after another.
One distraction has been Intelligence Committee Chairman Devin Nunes and his questionable Russia probe. After Nunes seemed to be coordinating with the White House, the California Republican stepped aside from leading the investigation on Thursday. Aides ask how those sorts of wounds are Ryans fault.
For Democrats, the answer is easy: Everything is a reflection of the speaker.
Theyre in the majority, Rep. Barbara Lee (D-Calif.) said Thursday. Speaker Ryan is the speaker. So one would think if they want to get something done, they would lead to get something done. And thats not what theyre doing.
Other Democrats were happy to pile on and point out how poorly things are going for House Republicans. The definition of dysfunction is how Rep. Jim McGovern (D-Mass.) described the House GOP conference.
They cant govern, said Rep. Dan Kildee (D-Mich.). I mean, they may have more members of the House and more members of the Senate, but one thing they dont have is a majority.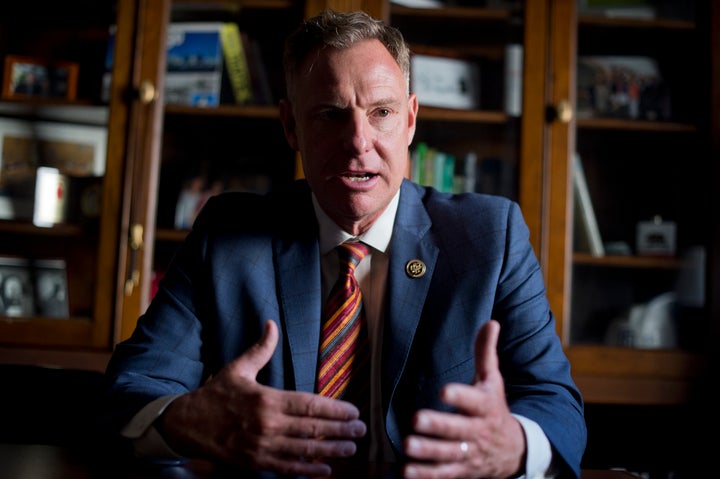 Democrats urged Republicans to reach across the aisle to work out legislation.
Its not the House of Republicans; its the House of Representatives, Rep. Scott Peters (D-Calif.) told HuffPost. And if they want to solve these problems, they might as well talk to a few Democrats.
He added that the answer on health care was obvious: If they want to deal with real problems, they can sit down with some of us. I see more of Speaker Ryan on TV than I do in the chamber.
But Republicans, miraculously, blame Democrats for not working with them. Natural Resources Committee Chairman Rob Bishop (R-Utah) said Thursday that it was difficult for Republicans to pass legislation because you have the other side of the aisle that refuses to do anything whatsoever.
Not an idea, nothing, not even a vote, he continued.
Our side did go. And they refused to do anything, he said.
Bishop implored Democrats to come up with a health care alternative, and he said it was one of the sad elements of the Affordable Care Act that Democrats didnt come to them in 2010 when Congress was working through Obamacare.
That line of attack doesnt exactly square with reality. Democrats point out that President Barack Obama held summits with Republicans, Congress debated the health care bill for over a year and more than 100 Republican amendments were ultimately incorporated into the bill.
Lee even suggested she was a little uncomfortable with how much Obama was asking for their ideas and incorporating their input. Oftentimes I would just not have to say anything, she said.
There is a growing chorus of moderate Republicans who say Republicans should reach across the aisle. Tuesday Group Chairman Charlie Dent (R-Pa.) suggested on Wednesday that working with Democrats was the best path forward for health care, and Rep. Leonard Lance (R-N.J.) essentially said the same thing.
That continues to be an option of last resort, however, partially because Republicans are holding out hope that they can come together and partially because leaders know it would further weaken them.
That dynamic isnt exactly new, but with the implosion of the health care bill, its maybe worse than ever. Still, aides didnt think much had changed.
When one senior GOP aide was asked for comment on this story, the aide shrugged it off.
Sounds like your story is a real barn burner, but the barn has been on fire for seven years now, he said.
Read more: http://www.huffingtonpost.com/entry/republicans-trouble-governing-vacation_us_58e6aef4e4b0cdad578e49b9