HS2: Route through Sheffield to be announced by ministers – BBC News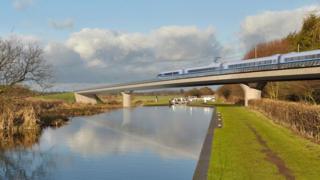 The final route of the Manchester and Leeds branch of HS2 will be announced later, including a decision over its path through Sheffield.
Contracts worth 6.6bn will also be awarded for work on the first stretch of the new high speed rail line between London and Birmingham.
The transport secretary said HS2 would "drive economic growth and productivity in the North and Midlands".
But critics say the project will damage the environment and is too expensive.
The first trains are not expected to run until 2026.
The decision over its route through the North of England has been delayed for several years due to a series of disagreements, the most controversial of which has been which route it should take through Sheffield.
'Important step'
The government's preferred plan for the route through Yorkshire would mean bulldozing the newly built Shimmer estate in Mexborough.
Transport Secretary Chris Grayling said communities affected by the railway would receive "appropriate support and are treated with fairness, compassion and respect".
"This is a hugely important step in the construction of Britain's new railway and underlines this government's determination to deliver an economy that works for all," he said.
"HS2 will deliver vital links between some of our country's biggest cities, helping to drive economic growth and productivity in the North and Midlands.
"As well as providing desperately needed new seats and better connecting our major cities, HS2 will help rebalance our economy."
The construction of tunnels, embankments and viaducts is expected to support about 16,000 jobs.
A Department for Transport spokesman said a "tough grip" was being kept on costs and the project was on time and on budget at 55.7bn.
But Joe Rukin, of the Stop HS2 campaign, said: "The case for HS2 has been invented by the very cheerleaders who intend to rake in billions of taxpayers' money which is desperately needed elsewhere, so it really is time to ditch this gigantic white elephant before it is too late."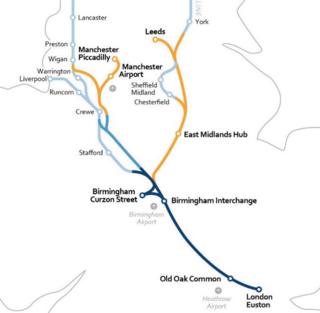 Parliament granted powers to build the first phase of the line between London and Birmingham in February.
Preparatory work has begun and major construction work is due to start in 2018/19. It is due to open in December 2026.
A Bill to deliver Phase 2a from the West Midlands to Crewe will soon be published by Mr Grayling. Services on this section are due to begin in 2027.
Phase 2b from Crewe to Manchester, and Birmingham to the East Midlands and Leeds, is due to open in 2033.
Read more: http://www.bbc.co.uk/news/business-40627464