Is it the last call for plastic straws?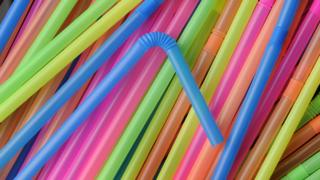 Pubs are calling time on "wasteful" plastic drinking straws, which campaigners say are used only once yet take centuries to decompose. So is it time to refuse the straw and get used to sipping our drinks instead?
JD Wetherspoon is the latest pub to stop automatically putting straws in drinks, effective this week, saying eco-friendly paper straws will be offered in its 900 pubs by the end of the year.
"It's a waste," says Su Cacioppo, Wetherspoon's personnel and legal director. "Personally I like a straw but a lot of people don't even want them."
Designer Vivienne Westwood recently backed an online campaign for people to refuse straws and start drinking from the glass – known as Refuse the Straw – which began in the US and is encouraging pubs and restaurants to follow suit.
What's the problem with plastic straws?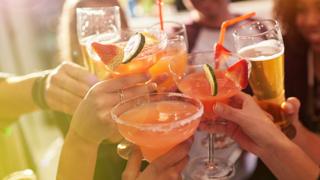 Most straws are made from plastics such as polypropylene and polystyrene, which unless recycled take hundreds of years to decompose.
It means small plastic items like straws, coffee cup lids and plastic bottle tops are strewn in the ocean and on landfill sites – even though they may only have been used for the time it takes to finish a drink.
Ms Westwood's Facebook post, which warned that "the straw in your cocktail or coffee will be on this planet forever", has been shared nearly 300,000 times. "Very little is recycled, and much ends up on the ocean," it read.
Wetherspoon, which hands out 70 million straws a year, says bar staff had complained about chucking vast quantities of used straws away during their shifts.
"This subject was coming up more and more often," says Ms Cacioppo.
Kate Dell, All Bar One's assistant marketing manager, a chain which gets through 4.7 million straws a year but has vowed to reduce its straw usage by one-third, says she is confident customers would be "happy to enjoy their drinks straw-free".
What should we be doing?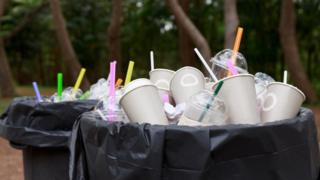 Simon Ellin, chief executive of the UK Recycling Association, says "nobody would be bothered" if bartenders stopped automatically putting straws in drinks and it is free for companies to implement.
"I had a pint of soda water the other day and not only did they put two straws in it but a stirrer, and I asked why they had done that – I'd imagine most people wouldn't query it," he says.
Paper straws are another alternative to cut waste – although Wetherspoon's Ms Cacioppo says the business will face "extra costs" for introducing them and admits they "feel a tiny bit different – but I don't think it's a big deal".
But Mark Hall, commercial director at BusinessWaste.co.uk, says it is not enough for pubs to simply phase out straws – saying people should be expected to pay tax for their straws, similar to the 5p carrier bag charge.
"Why on earth do you need a straw in your gin and tonic anyway?" he says. "The industry can do something about it, but so can we as consumers – it's easy to say 'no straw please'."
Why are plastic straws so popular?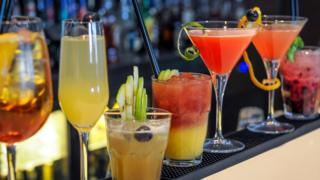 From adding a flourish to a cocktail to apparently making a drink taste better, straws have been commonplace in almost every restaurant and bar in the UK for decades.
Rye grass straws were used for hundreds of years before the first old-style paper straw was patented in the US in 1888 by inventor Marvin Stone – which since the 1970s has gradually been replaced by plastic alternatives.
McDonald's has even claimed its Coca-Cola tastes better when drunk through one of its straws – which are slightly wider than in other fast food chains.
The chain, which hands out free straws with its drinks, and serves 3.5 million people in the UK every day, says it has invested in recycling units in its restaurants to cut waste. "This includes our straws, which are made from recyclable plastic," a spokesman said.
Does using a straw protect my teeth?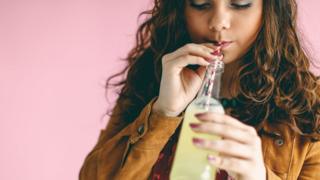 But what about the damage to your teeth?
Dentists say sipping through a straw can reduce the amount of liquid with which your teeth come in contact – potentially preventing tea and coffee stains, as well as erosion from fizzy drinks.
Experts have even advised Prosecco-lovers to drink the wine through a straw to protect their teeth from the high acid and sugar content.
But Dr Nigel Carter, chief executive of the Oral Health Foundation, says people can protect their teeth by having a drink during mealtimes rather than on its own.
"However, if we are to consume them outside of these times, using a straw really can help to reduce some of the damage," he says.
Read more: http://www.bbc.co.uk/news/uk-41397345