Is my tower block safe? – BBC News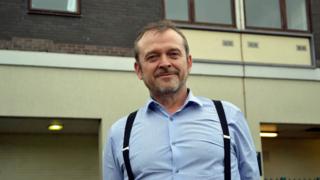 Phil Murphy watched the Grenfell disaster unfold on television from his flat on the eighth floor of a Manchester tower block. The former firefighter immediately decided to check out his own building's safety – and was horrified at what he discovered.
On the morning of 14 June, as he switched on the news, Murphy knew straight away how serious the situation in North Kensington was.
Murphy had joined the fire service at the age of 28. Going into a fire, he remembers, was "absolutely frightening".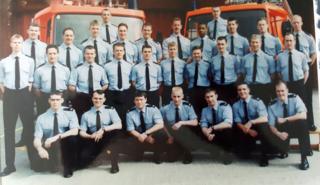 But he had found the job, which he did for six years, extremely rewarding. He moved up through the ranks and became a fire safety officer.
The worst kind of call out? "Anything to do with children."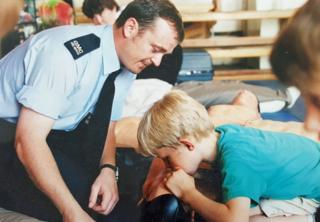 Now, he lived in a tower that, like Grenfell, stood 23 storeys above ground, with a single staircase. And he wanted reassurance that the same thing couldn't happen in his building.
For the past eight years, Murphy has occupied a flat in Stretford House, a 50-year-old block that sits between Manchester's inner ring road and Stretford Mall shopping centre on one of the main routes into the city.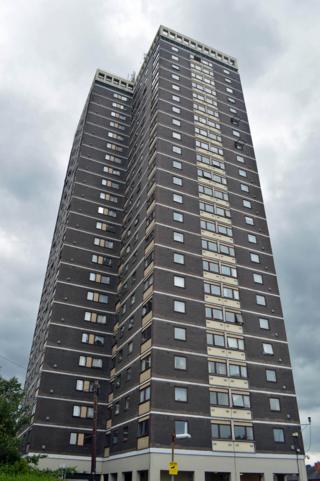 "I love living here," he says. "We work hard to make it a community that we all enjoy." Quite a few of his neighbours are elderly or disabled, and the residents' committee, chaired by Murphy, works hard to stop them feeling isolated. There are plans to grow fruit and vegetables on the roof, as well as to start a recycling club in the shed.
He left the fire service a decade ago. But once you've been a fireman "it never leaves you", he says. "You always read the fire safety in a building when you walk in."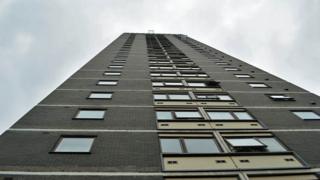 Murphy wasted no time – the day after the Grenfell fire he requested a meeting with Stretford House's landlords, Trafford Housing Trust. He persuaded his local MP, Kate Green, to come with him.
"They were quite firm in reassuring us that everything was fine and they gave me a copy of the 2016 fire risk assessment for the building to take with me," Murphy says.
If this was meant to reassure him, it failed.
"I was horrified, frightened and astonished at the contents of that document," Murphy says.
He found there was a lack of documentation to show that fire alarms, emergency lights and dry risers – pipes which allow water to travel up a building in case of fire – were working or had been looked after.
There was also evidence that compartmentation – the barriers that prevent fire spreading from one part of the building to another – had been breached six years ago when new kitchens, new bathrooms and a communal energy system had been fitted. As a result, says Murphy, "the building was, in fact, full of opportunities for fire to spread".
---
Find out more
Phil Murphy and residents spoke to Luke Jones and Eddie Mair for iPM – you can listen here
---
The housing trust "appeared not to understand what [the 2016 fire] risk assessment was screaming at them, and I mean screaming at them," he adds.
So he began a forensic, line-by-line analysis of the risk assessment and, over four days, compiled a 14-page report. "I went into a bubble. I wasn't sleeping very much at all. And I was completely obsessed with completing it," he says.
He sent the report to the trust, deciding not to raise his concerns with fellow residents immediately.
"Surrounded by people that have been coming to me and crying and telling me all about their fears and why they were scared and why they weren't sleeping, after seeing those horrific scenes from Grenfell – I just thought it might push them over the edge if I showed them that document, frankly," he says.
The report was highly detailed and technical, but in the accompanying email Murphy was very clear about the levels of anxiety felt by the people living in his block.
The housing trust responded to Murphy's email at 04:00 the morning after he sent it. By mid-morning there was a representative from the trust in the foyer "taking on board the concerns" of residents.
Eventually Murphy had a chance to fully voice his worries at a meeting with the trust and the local fire service. A more detailed inspection was carried out by the fire service and Murphy's concerns about the compartmentation were confirmed.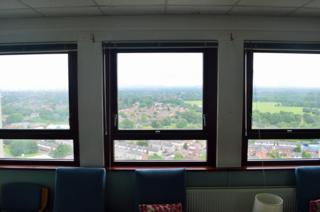 When we meet Murphy at the entrance to his building, 13 maintenance vans are parked nearby. Inside, the sound of builder's radios echoes round the corridors as workmen busily undertake fire safety repairs.
"On Thursday, as soon as the fire officer had been in, and confirmed that my report was correct, the building was full of people, putting fire stopping [insulation] round because it's fatal. The place is a death trap without that fire stopping in place", Murphy says.
We go to the flat of one of his neighbours, Pat. Her flat has just been inspected. Four areas in need of fire safety work had been identified – by her front door, in her kitchen, in her living room and in her boiler room.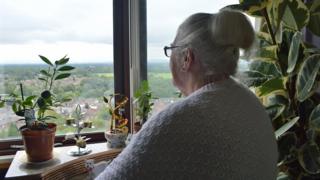 "I call it my cubby hole," Pat says.
The room is linked to a dry riser which runs the full length of the tower block.
Because it hasn't been fireproofed, Murphy says, "if there is any smoke or fire in that riser, it will penetrate right through the building".
"I'm frightened about smoke," says Pat, 70, who has breathing problems. "That would kill me straight away."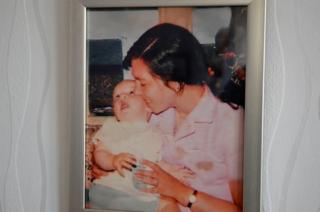 To her relief, workmen are now scheduled to fix the problems.
"Maybe I'm the one who has lost more sleep," says Murphy. "Because I've seen instances like this turn into real catastrophes."
"And that's why everyone is grateful for what you've done," says Pat, holding back tears. "I mean it, Phil."
Trafford Housing Trust, which owns and manages Stretford House, says it has reviewed its risk assessments, is undertaking urgent works on the blocks it owns and has fire wardens patrolling 24 hours a day.
Back on the ground floor, in the caretaker's office, we meet Mike Corfield, Trafford Housing Trust's assistant director for customers. He says the work being done in the block is not solely down to Murphy's report.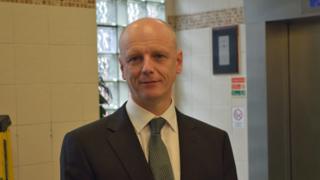 "Within days of the fire at Grenfell we decided we would commission something called a level four risk assessment, the highest level fire risk assessment you can take," he says.
He admits the 2016 fire risk assessment which worried Phil did highlight some issues with the compartmentation, but "didn't flag them as a serious risk" and says it was written by a "trained and professional expert".
Outside, looking at the rows of maintenance vehicles, we ask Murphy if he's pleased the problems are now being fixed.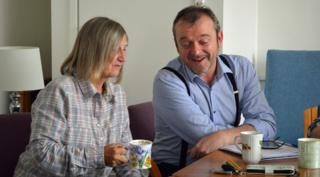 "There's still some very, very serious things for them lot to do," he says. "It's certainly warranted this level of reaction."
He's not giving up, though, until he feels all his concerns have been addressed. There is one thing he keeps telling the landlords: "If you lived here, it would be different."
And he is not just thinking about his own block of flats. He wants to develop an app to allow residents to run their own safety checks.
"I want to do something to empower residents of high-rise blocks all around the country to look after their own fire safety," he says. "Because at the moment we're all feeling very disempowered and frightened."
Photographs by Luke Jones unless otherwise stated

Join the conversation – find us on Facebook, Instagram, Snapchat and Twitter.
Read more: http://www.bbc.co.uk/news/magazine-40507260