'I've come to rescue you': My grandfather at Dunkirk – BBC News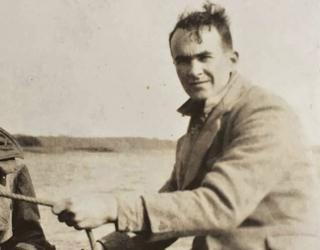 I went to see the film Dunkirk because of my grandfather, Guy Farrer. He was one of the volunteers who went over to rescue British and French troops from the beaches. He didn't talk about it much but he wrote an account of his experiences. This is his story…
In May 1940, Guy Farrer found himself approaching the beaches of Dunkirk in a small open boat. One of the trawlers in his convoy had just hit a mine and had "gone up in a shattering explosion".
In the mist, it took him a little while to make out the thousands of soldiers sitting on the beach.
The task he had been given struck him as "crazy".
"Fancy trying to evacuate a whole army from a shallow beach with the aid of paddle steamers and sailing barges!"
And things got crazier when he tried to persuade the soldiers to get on his boat.

I lowered myself into the gentle surf and climbed up the beach into France. I approached the nearest group of soldiers, some of whom were playing cards.
"I've come to rescue you," I said modestly.
"Say that again, mate," said the corporal.
"I've come to take you off," I announced.
"Where to, mate?" asked the corporal. He sounded suspicious.
"To England."
"How we going to get there, mate?" asked the corporal.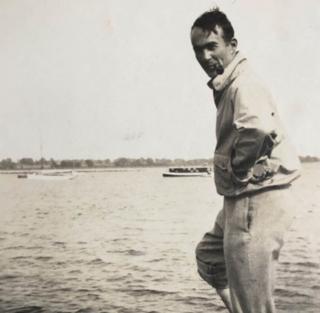 I took a deep breath. "We are going by boat We are unable to bring the boats any closer because the water is too shallow. You will therefore have to wade out to them. When we have a full complement of troops in the boats, we will row you out to the trawlers which are waiting to take you back to England. Is that clear?"
The corporal looked out to sea.
"I don't see no trawlers and I don't see no boats."
I looked behind me. The mist had thickened. There were no boats of any description visible.

At the time of Dunkirk, Guy Farrer was 29 years old and a civilian.
He had only got involved in the evacuation operation because he was taking a course with a yacht chandler named Capt OM Watts, in Albemarle Street, London.
A keen sailor, Guy was preparing for his Yachtmaster's certificate exam, so that he could join the Navy as an officer.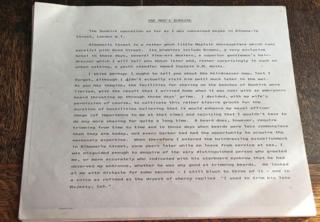 During the class, the telephone rang.

Capt Watts excused himself and was away for quite a time.
'That was the Admiralty,' he told us when he returned. "They are requisitioning anything that will float and are asking everyone who can handle a boat to help take the troops off the Dunkirk beaches. I have been asked to appeal for volunteers. Any takers?"
A ripple of excitement flowed through the room. There were about 30 of us, all youngsters. "When do we go?" said one, reaching for his bowler hat.

They were told to assemble in the City at 8pm that evening. There wasn't time to go home, so they went to a pub.
"We laughed and joked like a bunch of rugger supporters on their way to Twickenham," Guy wrote.
"This was the biggest adventure of our lives so far.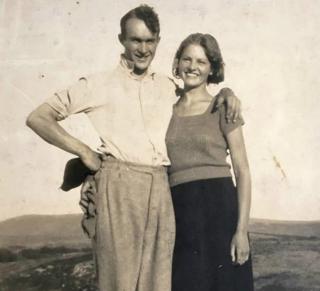 "You will laugh when I tell you this was going to be my first trip to foreign parts. People in my income bracket didn't go abroad much in those days and I was quite excited on that account alone."
His wife, Peggy, my grandmother, came up from their home in Richmond to see him off. She brought him a rucksack with sweaters, chocolate – and – "you mustn't laugh" – wrote my grandfather, a pair of pyjamas.
At Tilbury, he was assigned to a lifeboat attached to a trawler. "I don't know how long these lifeboats have been out of commission," an elderly Naval commander told them. "But we put them in the water at thirteen hundred this afternoon, and they are still afloat so they will probably be all right."
Guy began to wish he hadn't come.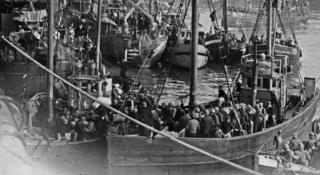 They set off towards Dunkirk, "part of the motliest procession of vessels which had ever put to sea in time of war".
As they approached the French coast, German aircraft appeared and a dogfight with British planes began. Bombs fell alarmingly close to their boat.
"I began to feel a little better as we neared the beaches," Guy wrote.
But then he was faced with the challenge of trying to rescue the soldiers. After failing to persuade the corporal to come with him, he walked further along the beach until he found an officer.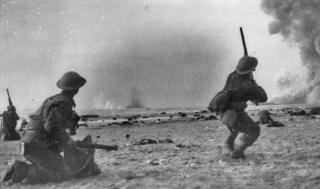 The officer was also suspicious, but eventually decided my grandfather wasn't an enemy agent when Guy told him he liked going to the Fox pub, halfway up Richmond Hill.
Before they could get moving, there was "a deafening roar".

I flung myself to the ground as an aircraft with its guns blazing, flew low over the beach. I wasn't able to see its markings because my eyes were tightly closed but it was clearly not one of ours. I looked around after it had gone expecting to see dead and wounded everywhere but miraculously nobody seemed to have been hit.
"I wish they wouldn't do that," said the officer with impressive cool. I tried to copy his nonchalant tone and said, "I suppose you get quite used to that sort of thing." "Not a bit of it, old man," he replied, lowering his voice. "What you get used to is pretending you are not as scared as your men are."
We walked down to the water's edge with the twenty men he had selected… The officer observing my anxious expression, said casually "I suppose there is more than one boat?" "Oh yes," I said. "There's several…"
At this moment fortunately the mist lifted… and there before us… was a great armada of rescue vessels, the smaller ones close in and the biggest ones quite a long way off shore. Ships and boats of all sizes and shapes, some at anchor, some cautiously underway, some empty and some packed with men, some that would never sail again, like the one in the harbour, which was blazing from stem to stern.

Over the next few hours, the volunteers struggled to row the soldiers out to the waiting trawlers, in the heavy unwieldy lifeboats, which kept getting grounded in the shallows. They had to make the troops wade out into deeper water before they could board.
Once aboard the trawler, where "every inch of deck space" was occupied, they set off for Dover.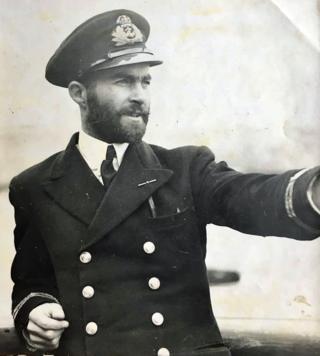 But their voyage was a brief one. Less than a mile from the beach, they hit a submerged wreck and became stuck. "A loud groan of dismay" went up.
They were eventually rescued from the trawler by a destroyer. There was no room for kit, so Guy had to abandon my grandmother's carefully packed rucksack.
Back in Dover, Guy learned with relief that he was not going to be sent back to Dunkirk, as things were "hotting up" there.
He slept most of the way on the train back to London, woken from time to time by the locals, who greeted it with cheers and cups of tea.

The arrival at Victoria brought me sharply back to reality. I rejoined my peers in the Richmond train and by half past nine I was in bed with my wife.
I joined the expedition because it seemed at the time to be the right thing to do. I spent most of my time there wishing I hadn't come and I was profoundly grateful when they wouldn't let me go back.
The aim of my story is to show what can happen to an ordinary young office worker should he happen to be in a certain room in Albemarle Street at a particular moment in history.

After Dunkirk, Guy joined the Navy in 1941 and served in the Mediterranean and the Red Sea. He eventually became a Lieutenant Commander. He died in 1984 at the age of 73.
Join the conversation – find us on Facebook, Instagram, Snapchat and Twitter.

Read more: http://www.bbc.co.uk/news/magazine-40852280