Jeremy Clarkson off work for 'some time' with pneumonia – BBC News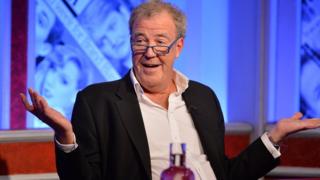 Jeremy Clarkson will have to take a break from work for "quite some time" after contracting pneumonia, the TV presenter has said in a statement.
The Grand Tour presenter was admitted to hospital on Friday after falling ill while on a family holiday in Majorca.
The 57-year-old posted a message on social media saying: "To keep you up to date, I'll be out of action for quite some time apparently."
He said it was "really annoying" as he had never had a day off work.
Clarkson also thanked fans for "all the good wishes".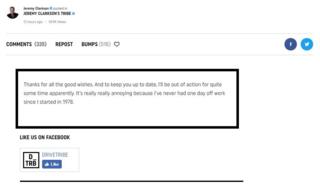 On Sunday, it was confirmed the former Top Gear host was being treated in a hospital on the Spanish island.
Clarkson shared a photograph of tubes in his arm and his hospital identity tags around his wrist, writing: "Not the sort of bangles I usually choose on holiday."
He had been due to return to filming his new Amazon Prime next week.
However, in a statement posted on the social media site Drive Tribe on Sunday, he added: "Thanks for all the good wishes. And to keep you up to date, I'll be out of action for quite some time apparently.
"It's really really annoying because I've never had one day off work since I started in 1978."
Clarkson's co-presenter Richard Hammond tweeted a link to the message and joked: "Wow. I didn't know he had a job."
Swiss crash
Clarkson is the second Grand Tour host to be admitted to hospital this year.
In June, Hammond, 47, was flown to hospital in Switzerland after crashing an electric super car in Switzerland.
The car, which was being filmed for the latest series of The Grand Tour, burst into flames after Hammond escaped the wreckage.
The presenter said he thought he was going to die during the incident, during which he became airborne and crashed after completing the Hemberg Hill Climb in Switzerland.
Clarkson made light of the situation on social media, saying the show's third co-presenter, James May, was now the only "functioning member" of the Grand Tour team, adding: "God help us."
Clarkson was sacked from the BBC's Top Gear in 2015 after punching producer Oisin Tymon, as well as calling him "lazy" and "Irish" in an expletive-laden exchange.
Co-presenters Hammond and James May also left the show and followed Clarkson to Amazon Prime.
Clarkson apologised to Mr Tymon for the "unprovoked physical and verbal attack".
Read more: http://www.bbc.co.uk/news/uk-40846356