Jeremy Corbyn: UK must embrace technological change – BBC News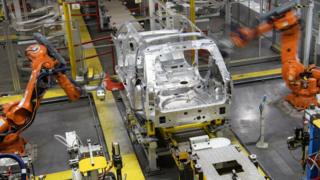 The state has a vital role to play in helping the UK maximise the benefits of automation and other technological changes, Jeremy Corbyn is to say.
The Labour leader will say he is not a "doom-monger" about mechanisation, saying jobs have been "lost, replaced and transformed" down the centuries.
But he will argue that adapting the UK for the jobs of the future "can't simply be left to the market".
A recent report suggested robots could affect 30% of British jobs by 2030.
The PwC study estimated that 30% of existing jobs in the UK were potentially under threat from automation, compared with 38% in the US and 21% in Japan, with manufacturing and retail at the greatest risk.
In a speech to business leaders in London, Mr Corbyn will say it is an unavoidable reality that new technology will lead to the loss of jobs and potentially the demise of entire industries.
But he will say he does not share the pessimism of some who fear it will result in an era of mass employment – since it will also usher in a wealth of new opportunities and the emergence of "as yet unforeseen" careers.
Social cost
While any government cannot stand in the way of such profound changes, he will say the state has a duty to help equip people to deal with the inevitable future "churn" in employment and ensure they have the skills to grasp new opportunities.
"At every stage of economic and industrial history, jobs, industries and skills have been lost, replaced and transformed," Mr Corbyn will tell the British Chambers of Commerce annual conference.
"But whether that happens at huge social cost, as it did, for example, in the early days of the industrial revolution and the Luddites, or is embraced and benefits everybody, depends on managing and planning for technological change. We can't simply leave it to the market.
"We need public institutions, public investment and public enterprise to work with business to manage the social and economic effects of rapid technological change so that it benefits the many not the few."
In its election manifesto, Labour promised that if it won power all further education courses would be free as part of a new national education service.
Mr Corbyn will say life-long learning and the opportunity to acquire new skills hold the key to the UK's future productivity and prosperity after what he claims has been a "lost decade" in terms of wages and output.
The Conservatives have set a goal of creating three million new apprenticeships by 2020 as part of efforts to address skills gaps which British business has warned is holding the country back.
To help pay for this, firms with a pay bill of 3m have had to pay an apprenticeship levy since April.
Education Secretary Justine Greening is among the other speakers at the BCC conference.