Large fire engulfs Weybridge hospital building – BBC News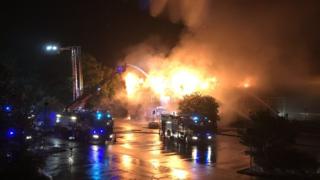 A large fire has ripped through Weybridge Community Hospital in Surrey.
Fire crews were called to the blaze at the building, which houses a walk-in centre that is only open during the daytime, late on Tuesday night.
People living near the scene of the fire have been evacuated from their homes for safety reasons and offered refuge inside St James' Parish Church.
Images shared on social media show the roof of the three-storey all-purpose medical centre engulfed in flames.
'Loud bang'
Matt Leisegang, 28, who was evacuated from his home about 100m from the fire, said: "It was about 11.45pm when my wife woke me up and said there was a fire at the hospital.
"We heard people shouting outside and went to look through the window. We saw what was happening and ran down to see if we could help.
"That's when I saw the left side of the roof was in flames already. Within about 15 minutes, the whole of the roof was alight.
"The building is only three storeys, and the top floor was completely engulfed in flames within a short time – that was the remarkable thing, how quickly the fire spread.
"Within about 40 minutes of the fire, the whole of the top floor was gone. I could only see flames."
He added: "We were asked by the emergency services to move back – there was a loud bang, an explosion from the gas canisters.
"Everyone seems to be safe. There are about 30 people in the church, there were some children earlier but they have been sent to stay with relatives.
"We're just thankful nobody seems to have been hurt."
Read more: http://www.bbc.co.uk/news/uk-england-surrey-40578016