Ludlow Hospital refuses 'demeaning' fancy dress donation – BBC News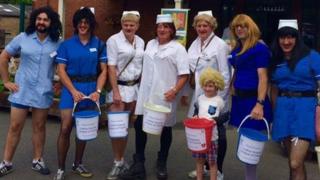 A hospital has turned down a £2,500 donation from a group of men dressed up as nurses after bosses said the outfits were "demeaning".
The group, which was supporting Ludlow Hospital in Shropshire, raised the money by pushing a bed around the town.
Jan Ditheridge, chief executive of Shropshire Community Health NHS Trust, said the behaviour was "insulting".
The hospital's friends group said it was a "sad day for public support for our health services".
See more stories from across Shropshire here
A letter to Peter Corfield, chair of Ludlow Hospital League of Friends, from Ms Ditheridge and chair of the trust Mike Ridley, said: "The presentation of men dressed as female nurses in a highly-sexualised and demeaning way is wrong, very outdated and insulting to the profession."
Mr Corfield said the bed-push fundraiser had taken place every summer for decades involving men from the local community and was "light-hearted".
He said proceeds from this year's event had been earmarked to provide ECG machines for the outpatients and minor injuries departments at Ludlow.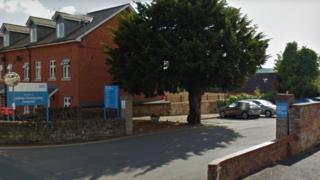 "We have therefore now had to withdraw the funding for those items," he added.
Alison Hiles, whose husband took part in the event, said: "Nobody's complained, everybody seems to enter into the spirit of it, locals know that it's going on, those that aren't local really enjoy the event and always have a chat with the lads and willingly give money, nobody forces them.
"I really don't know why all of a sudden that it's a problem."
Ms Ditheridge said: "We have previously asked that this doesn't happen and therefore don't think it's right to accept any money associated with this activity."
Many people, including nurses, have taken to social media to voice their support for the fundraisers.
Tracy Morgan Jones wrote on Facebook: "It's money raised in a fun way in a costume meant to draw attention to the worthy cause not insult the hard-working doctors and nurses."
Gemma Davies said: "I'm a nurse and am not at all insulted. How stupid!", while Hannah Holt added: "Refusing the money is an insult to the profession. I love being a nurse and I love people dressing up as nurses…. it's a sign of admiration."
Others suggested the money would be welcome elsewhere, including Ann Lanham who said: "I'm sure there are plenty of other good causes in the area who will be willing to accept the money."
Read more: http://www.bbc.co.uk/news/uk-england-shropshire-41011908