'Monster' fatberg found blocking sewer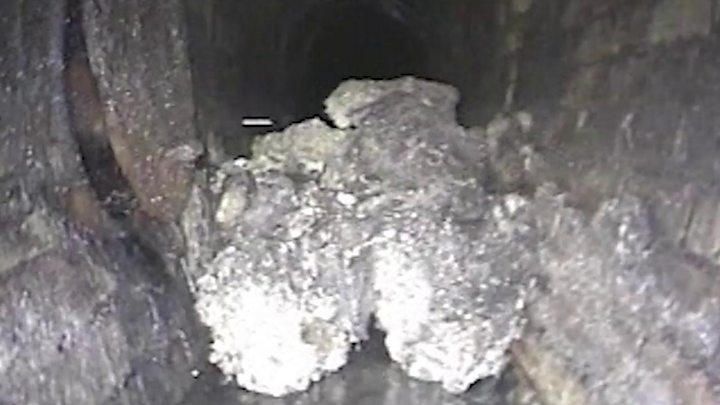 A 250-metre long fatberg weighing 130 tonnes has been found blocking a sewer.
The solid mass of congealed fat, wet wipes, nappies, oil and condoms formed in the Victorian-era tunnel in Whitechapel, London.
Thames Water described it as one of the largest it had seen and said it would take three weeks to remove.
The company's head of waste networks Matt Rimmer said: "It's a total monster and taking a lot of manpower and machinery to remove as it's set hard."
The company says fatbergs form when people put things they shouldn't down sinks and toilets.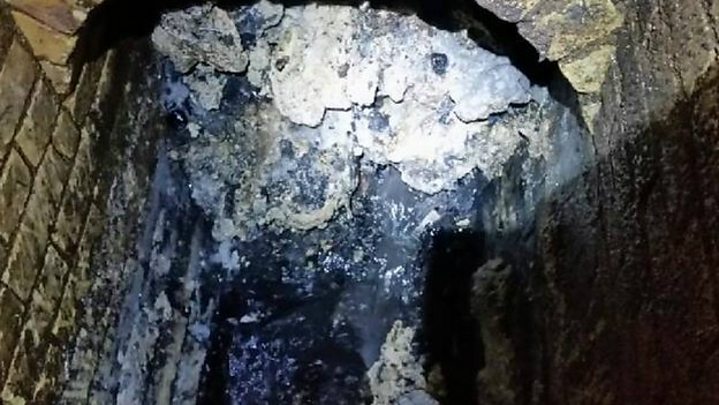 "It's basically like trying to break up concrete," Mr Rimmer said.
"It's frustrating as these situations are totally avoidable and caused by fat, oil and grease being washed down sinks and wipes flushed down the loo.
"The sewers are not an abyss for household rubbish and our message to everyone is clear – please bin it – don't block it."
The fatberg is about as heavy as 11 double decker buses.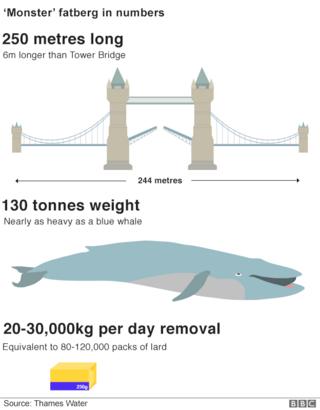 Work at Whitechapel Road to remove the immense fatberg started this week.
Eight workers will break up the mass with high-pressure hoses, suck up the pieces into tankers and take it to a recycling site in Stratford.
In 2013, Thames Water found a bus-size fatberg in a sewer in Kingston-upon-Thames.
A spokesman for Tower Hamlets Council said: "We know this is a major issue across London.
"We have set up a waste oil collection point with Truman Brewery in Brick Lane, and strongly encourage businesses to set up collection contracts for their waste oil with companies for recycling."
---
What else would you like to know about fatbergs? Ask us your questions using the form below and we could be in touch.
If you are reading this page on the BBC News app, you will need to visit the mobile version of the BBC website to submit your suggestion.
Read more: http://www.bbc.co.uk/news/uk-england-london-41238272