Quit smoking campaign backs e-cigs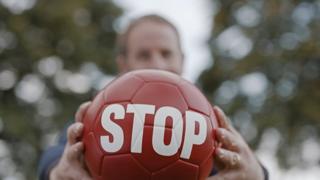 The annual Stoptober campaign in England is embracing e-cigarettes for the first time – in a sign vaping is being seen as the key to getting people to quit.
Health experts have tended to shy away from explicitly promoting e-cigarettes.
But the government campaign during October will feature vaping in its TV adverts for the first time.
It comes after e-cigarettes proved the most popular tool for quitting during last year's campaign.
Some 53% of people used them, helping push the numbers of people taking part in Stoptober since its launch in 2012 to over 1.5 million.
E-cigarettes are not yet officially prescribed on the NHS.
However, doctors and other health professionals are encouraged to advise smokers who want to use them that they are a better alternative to smoking.
New draft guidance from the National Institute for Health and Care Excellence (NICE) does not list e-cigarettes as a recommendation to help people quit, but says patients should be told some smokers have found them helpful when they want to give up.
NICE advises that patients should be told that there "is currently little evidence on the long-term benefits or harms of these products".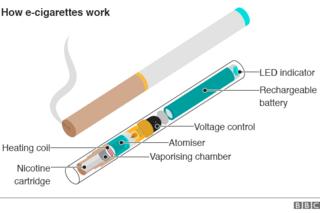 But government experts behind the Stoptober campaign have been encouraged by newly released research suggesting record numbers of attempts to give up are proving successful.
University College London researchers found 20% of attempts were successful in the first six months of 2017, compared with an average of 16% over the previous 10 years.
A successful attempt was judged to be one where the person had tried to stop smoking in the past year and was still abstaining at the time of the survey.
The biggest rise in successful attempts to quit was among people from poorer backgrounds, who have traditionally been the least likely to give up.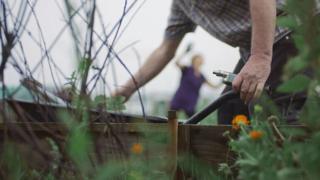 The government's deputy chief medical officer Prof Gina Radford said e-cigarettes were playing an important role and, as they had "95% less harmful products" in them than normal cigarettes, it was only right that they were promoted during Stoptober.
But she also said there were a number of other factors that were proving effective in reducing smoking rates, including restrictions that have been brought in such as standardised packaging and bans on displays in shops.
Of the new draft guidance for health professionals, Prof Radford told BBC Radio 4's Today programme: "What for the first time NICE is saying is we recognise that e-cigarettes are being used by people to help them quit.
"Therefore, engage people in a discussion about how they are using them, encourage them to be using them only as part of a quit attempt… tell them clearly whilst they are much less harmful than tobacco cigarettes, they are not without all harm."
Is smoking being stubbed out?
15.5%
Over 18s smoked in England in 2016
26.8% Over 18s smoked in England in 2000

1 in 5 Attempts to quit successful in early 2017

5 "Stoptober" campaigns have been run

Over 1.5m have tried quit during them
PA
Latest figures suggest just over 15% of people were smoking in 2016, down from 21% in 2007, when the smoking ban was introduced, and over 26% at the turn of the century.
As smoking has decreased, vaping has increased. About one in 20 people over 16 regularly uses e-cigarettes currently – a quarter of them are smokers or ex-smokers.
But Prof Radford said: "The battle against smoking is far from over – it is still the country's biggest killer, causing 79,000 deaths a year.
"And for every death, another 20 smokers are suffering smoking-related disease."
Meanwhile, NHS Health Scotland has stated for the first time that e-cigarettes are "definitely" less harmful than smoking tobacco.
Read more: http://www.bbc.co.uk/news/health-41339790