RAF's close combat unit opens to women for the first time – BBC News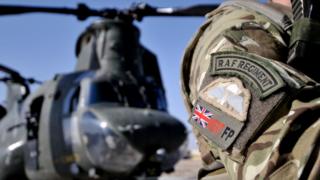 The Royal Air Force has become the first branch of the British military to open up every role to men and women.
From Friday it will accept applications from women to join the RAF Regiment – its ground-fighting force.
The move follows a decision last year to lift the ban on women serving in close combat roles.
The main role of the 2,000-strong RAF Regiment, which sustained casualties in Afghanistan, is to patrol and protect RAF bases and airfields.
With women making up just 10% of the air force as a whole, there is unlikely to be a flood of applications, says BBC defence correspondent Jonathan Beale.
But, he adds, it is a significant moment because it means women can now apply for any RAF role, from fighter pilot to ground support.
The RAF's women will not be the first allowed to serve in close combat roles, as some recently joined the Royal Armoured Corps.
Ahead of schedule
But it will be another year before women can apply to enter army infantry units and the Royal Marines, where the physical demands can be tougher.
The ban on women serving in close combat units was lifted by then Prime Minister David Cameron in 2016.
In July, Defence Secretary Sir Michael Fallon announced that the RAF Regiment would be open to them from September – ahead of its original 2018 schedule.
He said at the time: "A diverse force is a more operationally effective force.
"Individuals who are capable of meeting the standards for the regiment will be given the opportunity to serve, regardless of their gender.
"This is a defining moment for the RAF."
'Strain on the body'
The former head of British forces in Afghanistan, Colonel Richard Kemp, told BBC Breakfast he "vehemently disagrees" that women should be serving in close combat roles – because of their physical capability.
He said: "Once you have got through selection, you are subjecting yourself to a minimum of four years of intensive physical training, day in and day out, in barracks and out of barracks, which puts enough of a strain on a man's body."
Quoting statistics that women sustain around twice as many serious injuries as men do during training, Colonel Kemp added: "I think the reality is we will find many more women than men suffer injuries… and we will then undoubtedly see very significant compensation payments being made out of the defence budget.
"And the nature of woman's bodies means that some of the injuries are going to be more significant in terms of being able to bear children and the like.
"I am not a doctor, but I have certainly read up on this and that is a problem."
However, a former major in the British Army, Judith Webb, said it had been proven that women were "well capable" of the roles.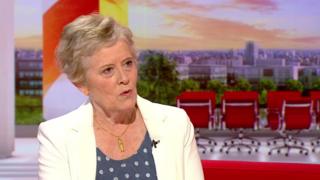 She told the programme: "My concern has always been to ensure that research is carried out so that women know exactly what they are in line for.
"Being aware of our physical differences is an important aspect, but that is where I feel research has now been carried out."
Major Webb added: "We want to promote diversity and get the best people, and if we have got women who want to do it, who are capable of doing it – then of course they should be able to do it."
---
Read more: http://www.bbc.co.uk/news/uk-41119863