Reality Check: What happened to Grenfell Tower donations? – BBC News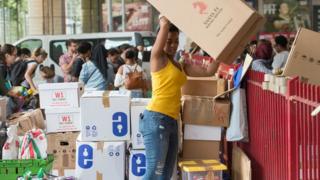 Survivors and relatives of those who died in the fire at Grenfell Tower last month have received only a small fraction of the cash and items donated by members of public.
For BBC Reality Check, Tom Burridge has looked into how much was given and why it's taking so long to reach those in need.
The cardboard boxes bounced from person to person.
Many had seen their neighbours suffer terribly. But the volunteers who formed the human chain stretching down the street seemed buoyed by the sheer scale of the response.
It was two days after the Grenfell Tower fire and mountains of donations sat in car parks, basketball courts and by the side of the road. The now infamous and black high-rise block loomed nearby.
From clothes to baby milk, bedding to bottled water. The huge quantity of donations was the enduring positive image in the wake of a tragedy which shook the country in so many ways.
In total, more than 170 tonnes of donated items are estimated to have been collected.
Some of the donations are now miles away in a warehouse in Cheshire.
It is akin to the British Red Cross' northern sorting office for the Grenfell appeal.
So far one hundred giant cardboard containers, full of donations, have been moved there.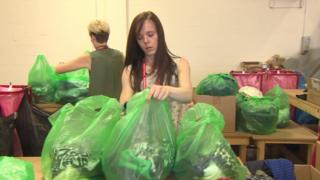 Damaged or stained items are sorted into black sacks for recycling.
Good quality clothes go into green sacks for sale in some 200 Red Cross shops across the country.
Diana Goss, from the British Red Cross says Grenfell, as a logistical challenge for aid agencies, is "really off the scale."
So far the charity has managed to sort through around half of everything donated.
Less than 6% (10 tonnes) has been offered to the residents who have lost their homes.
---
Physical donations
An estimated 174 tonnes of items were donated and are being handled by the British Red Cross
10 tonnes have or will soon be made available to the former residents of Grenfell Tower
62 tonnes are being sold in British Red Cross shops (with the proceeds going to its Grenfell fund)
15 tonnes are being sold to textile recycling companies (with the proceeds going to Grenfell victims)
87 tonnes – half of the total donated – are yet to be sorted
Source: British Red Cross
---
The sheer volume of items donated means that only brand new items are being returned to London and given direct to residents.
Gwynn, a British Red Cross volunteer, said he was moved to help after "seeing how awful it was on the news."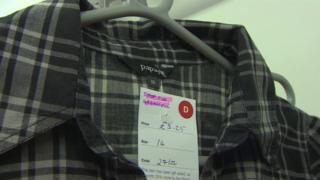 So when people donate huge quantities of second-hand belongings all at once, it presents charities with a logistical, if welcome, headache.
Hard cash has much less baggage.
However what the Grenfell appeal has shown is that it takes time for the money to reach the people it's intended for.
The government pledged 5,500 in emergency funds for every household who lost their home.
But as much as 20m has been donated by private individuals and businesses to charities and appeals.
Of those donations less than 800,000 has been given out so far.
---
Cash donations total – nearly 20m
5.5m London Community Foundation/Evening Standard Dispossessed Fund
5.1m K&C Foundation
4.7m British Red Cross
4m More than 700 individual appeals on the websites like JustGiving and GoFundMe
500,000 Four Muslim charities
Total disbursed so far – nearly 800,000
214,280 Grenfell Muslim Response Unit (cash)
220,000 London Community Foundation/Evening Standard Dispossessed Fund (120,000 cash, 100,000 to local organisations)
180,000 K&C Foundation (120,000 to local organisations, 60,000 cash). A further 120,000 in cash grants is being processed.
158,000 by the London Emergency Trust (cash to bereaved and injured)
---
The big fundraisers, including the Red Cross, have already passed 4.8m to the London Emergency Trust. Its job now is to distribute the money.
The Trust gives grants to bereaved family members and those who were injured.
One of its trustees is Thelma Stober. She was injured in one of the suicide bomb attacks in London on 7 July 2005.
Thelma says the financial support she received from the trust in the wake of that attack helped pay for crucial physiotherapy.
She says it is almost inevitable that money from the Grenfell appeal will take time to reach the victims.
"You're in a state of confusion", she says.
"A lot will be suffering from post-traumatic stress disorder (PTSD)."
And therefore Thelma believes it is crucial that people know where to go to get help in a simple and fast way.
In the case of Grenfell 16 people have so far received financial support from the trust totalling 158,000, a small fraction of the total.
It is currently considering dozens of applications and expects more payments will follow soon.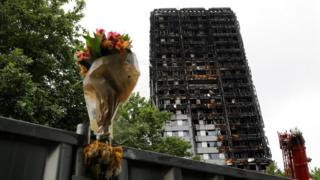 In the immediate vicinity of Grenfell Tower people are sceptical about whether all of the money donated will make it through to those most in need.
For Samia Badani, who chairs a residents group for some of the people living next door, there is a sense that the public's generosity "is being betrayed."
"They gave money to help those directly affected and we're not too clear that it is happening", she tells us.
But the Chief Executive of the British Red Cross, Mike Adamson, insists his organisation, in conjunction with others, is "working round the clock" to process applications and get the support, financial or otherwise, to those in need.
"What we've learnt from the 7/7 bombings, or Manchester is that it takes longer than you might think for people to come forward and to seek their funding."
He also believes the process will be delayed because, in the case of those affected by the fire, some "are wary of officialdom" and there are issues surrounding some people's immigration status.
People who think they may be eligible to claim for relief payments are advised to call the British Red Cross helpline on 0800 458 9472.
Physical supplies and other support are available at the Westway Sports Centre.
---

---
Read more: http://www.bbc.co.uk/news/uk-40610825