Russia Bans 'Extremist' Image Of Putin In Makeup
Russia has added a digitally altered image of President Vladimir Putin in heavy makeup to its list of banned extremist materials,saying the picture suggests Putin is gay.
The Russian Ministry of Justice last week added the photo to its index of extremist materials a list that now includes more than 4,000 imagesthat are illegal to share. The offending image is number 4,071, which the ministry describes a man resembling the president whose makeup hints at the Russian presidents allegedly nonstandard sexual orientation.
The Putin in makeup pictures addition to the list of extremist materials stemmed from a court case in May in the city of Tver. The ruling outlawed a number of images posted on Russian social media platform Vkontakte by defendant A. V. Tsvetkov. Among other now-banned images that Tsvetkov posted were Putin as a Nazi, and overtly racist and anti-Semitic materials.
Tsvetkovs Vkontakte account is no longer accessible.The governments description of the extremist image of Putin mentions painted eyelashes and lips, as well as a caption that uses a homophobic slur.
The depiction of Putin in brightly colored cosmetics began to crop up following the Kremlins 2013 gay propaganda law, which effectively banned the distribution of materials giving information on LGBTQ rights. Human rights groups and activists widely condemned the discrimination, and protests around the world featured images of Putin in makeup.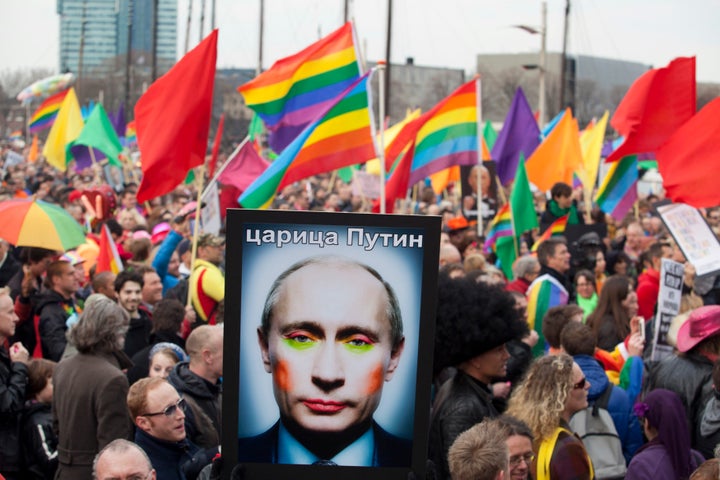 Russia has restrictive laws on the depiction of public figures. The Kremlin is sensitive to criticism and protests, and has banned certain opposition news sites and blogs. Last month, authorities cracked down on nationwide anti-corruption protests and arrested hundreds of demonstrators.
Kremlin press secretary Dmitry Peskov on Wednesday addressed reports of the Putin picture being added to the banned list, saying that such images dont have an effect on the president.
As a person, he might be stung, but as president he is quite resilient to these vulgarities and has learned to brush them off long ago, Peskov said, according to Russias state-run Tass news agency.
Peskov added that he had not seen the image in question, but would take a look at it and consult with the Ministry of Justice.
Read more: http://www.huffingtonpost.com/entry/putin-ban-extremist-gay-photo_us_58e5675de4b0917d3476f919