Ryanair cancels another 18,000 flights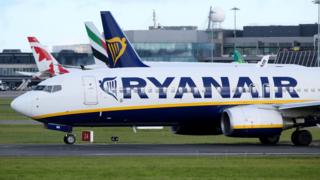 Ryanair will cancel another 18,000 flights between November and March, affecting the travel plans of another 400,000 passengers.
It will fly 25 fewer planes to cut the risk of further flight cancellations.
A total of 34 routes will be suspended this winter, including Stansted to Edinburgh and Glasgow, Gatwick to Belfast and Newcastle to Faro.
Earlier this month the Irish airline cancelled up to 50 flights a day through to the end of October.
It blamed the summer cancellations on "messing up" pilot holiday rosters.
Ryanair said suspending more flights meant it could "roster all of the extra pilot leave necessary" in October, November and December.
Passengers affected by the move will be offered alternative flights or full refunds and had been emailed about advising them of flight changes occurring until the end of October.
They will also be offered vouchers of 40 euros (£35) one way or 80 euros return towards on alternative flights on top of any refund.
The airline again denied it had a pilot shortage as some have claimed: "In the current year less than 100 of over 2,000 captains left Ryanair (mainly retirements or to long haul airlines) and less than 160 F.O's [first officers] who have mainly left to join long haul airlines."
Ryanair added that it had more than 2,500 pilots on a waiting list and had offered jobs to more than 650 new pilots who would be join by May next year.
In addition, ten days after saying it was preparing to buy the Italian carrier Alitalia, Ryanair said it would drop the bid to "eliminate all management distractions".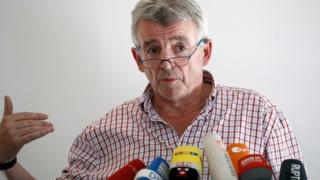 Ryanair chief executive Michael O'Leary said: "From today, there will be no more rostering-related flight cancellations this winter or in summer 2018.
"Slower growth this winter will create lots of spare aircraft and crews, which will allow us to manage the exceptional volumes of annual leave we committed to delivering in the nine months to December 2017."
The airline also said the total cost of the flight cancellations to date was less 25m euros (£22m) and expected the cost of the free flight vouchers would be less than £22m.
It said that it has had to scale back its original forecast for passenger numbers in the year to March 2018 from 131m to 129m but it said that it would not affect profitability.
Ryanair's share price rose 3% in London, bringing the rise this year to 17%.
---
Has your flight been cancelled? E-mail us at haveyoursay@bbc.co.uk
You can also contact us in the following ways:
Read more: http://www.bbc.co.uk/news/business-41414414