Scottish ministers urged to lead fight against 'period poverty' – BBC News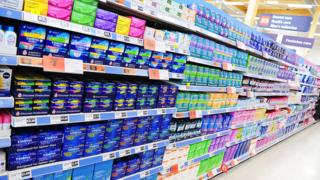 Ministers are being urged to make Scotland a world leader in fighting "period poverty" by making sanitary products free for those who need them.
Labour MSP Monica Lennon says access to the products should be "a basic right".
She wants schools, colleges and universities to be required to provide free items in their female toilets.
In July, the Scottish government announced a six-month pilot project in Aberdeen aimed at women and girls from low-income households.
At least 1,000 people should receive free sanitary products during the trial, which ministers have supported with 42,500 of funding.
Ms Lennon is launching a consultation on a members' bill aimed at ending the problem Scotland-wide.
The legislation, if passed, would create a new duty on ministers to introduce a universal system of free provision of sanitary products.
As well as schools and colleges, the duty could be extended to other organisations at a later date following a review.
'More equal society'
Ms Lennon, Labour's inequalities spokeswoman at Holyrood, said: "Access to sanitary products should be a basic right, but sadly in Scotland we know not everyone can afford or obtain what they need.
"That's why I intend to introduce a legal duty on the Scottish government to develop a universal system in Scotland which will provide free sanitary products for anyone who needs them.
"My proposal also includes a statutory duty on schools, colleges and universities to provide free sanitary products in their toilets.
"Having your period shouldn't result in anyone missing class.
"This is a big step towards creating a fairer and more equal society and I hope to hear from people right across Scotland during the consultation."
Communities Secretary Angela Constance said she agreed it was unacceptable for any girl or woman not to have access to sanitary products.
She said: "We are exploring how to make these products freely available.
"I welcome Monica Lennon's work on access to sanitary products and will be happy to engage further with her as we look at what more can be done to tackle the issue, within the current powers of the Scottish Parliament."
Read more: http://www.bbc.co.uk/news/uk-scotland-scotland-politics-40917615