Seriously?! Officer Appears To Stomp On Handcuffed Suspects Head
The suspect was lying handcuffed on the ground, held down by one police officer, when another officer ran up and appeared to stomp on his head. A passerby captured the disturbing scene on video, leading to public outcry even from the mayor.
The incident occurred in Columbus, Ohio, on Saturday. Only two weeks earlier, the white officer with the heavy step had managed to avoid charges related to fatally shooting a black man in 2016, local 10 TV News reported.
Columbus Officer Zachary Rosen was responding to a report of a discharged firearm this past weekend when video recorded his use ofwhat appears to be unreasonable force on the restrained suspect. The latter man, identified as DeMarco Anderson, is black.
Are you serious? Anderson is heard shouting after he was hit. I got cuffs on, sir! Are you serious?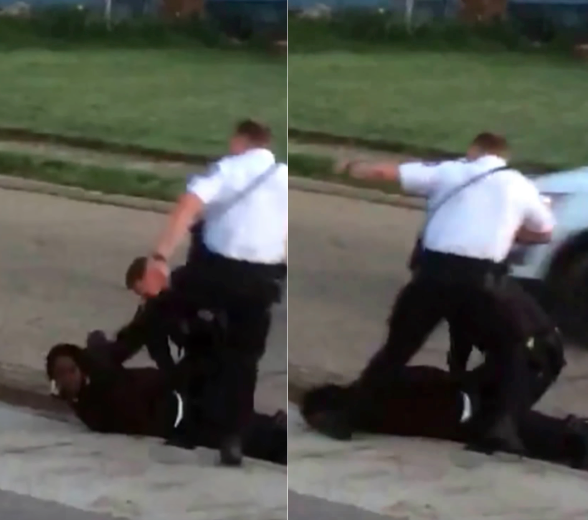 The Columbus police agency distanced itself from the officers behavior, which itsaid in a statement does not meet the standards [of]the Columbus Division of Police.
It appears to be inconsistent with the values and training we instill in our officers, the agency said. The officer self-reported a kick to the suspect while the suspect was in custody. Well learn more as the investigation continues and take appropriate actions based on the facts gathered. The officer has been temporarily reassigned.
Columbus Mayor Andrew Ginther also condemned the officers actions in a post on Twitter, calling his behavior unacceptable.
According to court records cited by The Daily Beast, police originally confronted Anderson for allegedly threatening to shoot people inside a nearby home. He elbowed a different officer in the face and ran. Police caught up with him a block away. The suspect was allegedly found carrying a handgun and a substance suspected of being crack cocaine. He has since been charged with resisting arrest, obstructing official business, aggravated menacing, possession of controlled substances, and having weapons under disability.
Rosen has been reassigned to non-patrol duty while an investigation into the incident is conducted, Columbus Police Chief Kim Jacobs said at a press conferenceon Tuesday. While taking questions from reporters, she emphasized that while the video is disturbing, the investigation needs to run its course.
Really, we dont know enough yet, Jacobs said after stressing that the video captured only one angle.
You cant always tell if contact was made. Video is recorded in 2D, she said. So there is potential that the camera does not see everything that occurred the way that it occurred.
Still,she said,using force against handcuffed prisoners is an issue.
Officer Rosens conduct has been questioned before. He was one of two officers involved in a June 2016 shooting that killed 23-year-old Henry Green.The grand jury declined to indict either officer on charges related to that incident last month, WOSU reported.
Green had been walking with another man when he crossed paths with Rosen and fellow Officer Jason Bare, who were patrolling in an unmarked vehicle and wearing civilian clothes, The Columbus Dispatch reported.The officers said Green pointed a gun at the vehicle.
The two officers said they got out,identified themselves as police and ordered Green to drop his weapon. Instead he fired the gun at them, the officers said. They fired too. Green was hit seven times.
That description of events was later disputed by the man who had been walking with Green. That man said the officers did not identify themselves or give Green time to react, according to the Dispatch.
Read more: http://www.huffingtonpost.com/entry/police-stomp-handcuffed-suspect-head-ohio_us_58ee9774e4b0b9e9848918e1