Seven nuns pictured at Seven Sisters – but some say there are nine – BBC News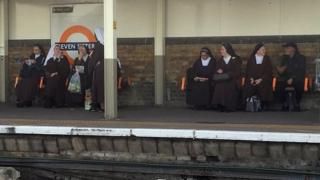 Seven nuns have been pictured at Seven Sisters station in London by a passing commuter.
Ben Patey, 33, was on a train when he saw the real-life seven sisters waiting on the platform.
He took the photo on his way home, telling the Express: "I had to do a double-take. It was one of those strange but amusing moments."
The Tube and overground station, near Tottenham, is thought to be named after a circle of Elm trees.
People have been sharing the photo on social media, with one person saying it had made them "irrationally happy".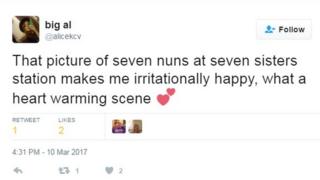 But others have expressed doubts that the photograph shows seven nuns – suggesting that eight or even nine sisters are shown in the photo but are obscured.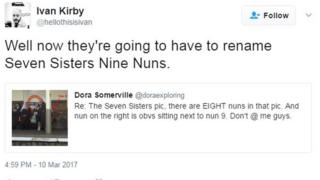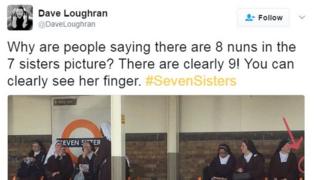 Read more: http://www.bbc.co.uk/news/uk-39236618