Should cyclists have to take a riding test?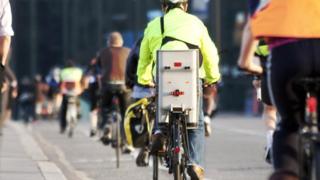 A new offence of "death by dangerous cycling" could be introduced as part of a review into cycle safety. So should cyclists also have to take a test before riding on UK roads?
Transport Minister Jesse Norman said it was "only right" to consider imposing strict laws on cyclists, following the death of pedestrian Kim Briggs, who was struck by cyclist while crossing the road.
Charlie Alliston, who killed Mrs Briggs while riding a bike with no front brakes, was convicted under a Victorian law.
Although many more people are killed by drivers each year than cyclists, two pedestrians died and 96 were seriously injured after being hit by a bicycle in 2015.
Currently, anyone can pedal on UK roads, whether or not they have passed a cycling proficiency – the riding skills test renamed as Bikeability in 2007.
So is a "riding licence" the answer?
"People are more likely to die during a mile of walking than a mile of cycling, so does this mean we also need a pedestrian test?" says Roger Geffen, Cycling UK's campaigns director.
He argues attempts to force cyclists to do anything – such as bicycle helmet laws in Australia and New Zealand – have led to a drop in cycling.
"Let's not put barriers in the way," he says. "The benefits of cycling are huge."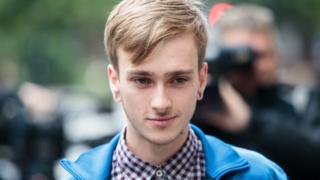 Rod Dennis, of motoring group the RAC, says many of its members are also cyclists – and ride more safely as a result of holding a driving licence.
But he says testing cyclists is "probably a step too far".
"If you're a cyclist who's passed your driving test you're probably aware of the vulnerabilities, so it'll make you a better driver and a better cyclist," he says.
He says Charlie Alliston's case highlighted that all cyclists should know the Highway Code, which applies to all road users – and includes a rule to watch for pedestrians stepping into your path.
"But the onus is probably more on drivers," Mr Dennis says.
"Perhaps we need driving tests where part of the theory sees a driver viewing the road from a cyclist's perspective."
Generation 'lost out'
Martin Key, road safety campaigns manager at British Cycling, the national governing body for cycle sport, says it would be "fantastic" if all cyclists took lessons.
But he too warns that testing could deter people from cycling in the first place.
"If you bring in tougher requirements like testing, you'll massively cut the number of people getting out and being independent," he says.
And he believes a generation of adults – generally those in their mid-twenties and older – have "lost out" on learning basic cycle skills because it was simply not offered to them during childhood.
"For a number of years training wasn't available," he says.
"Cycling proficiency was around during the 1990s but it was patchy because it was run by local authorities."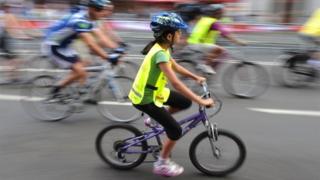 Many adult riders remember taking their Cycling Proficiency as a child – the now-defunct test which dates back to 1947.
It included weaving in and out of traffic cones in the school playground and emergency stops.
The scheme's latest incarnation, Bikeability, arrived in 2007 with significant changes.
It is aimed at adults and children and offers three different skill levels to prepare cyclists for increasingly busy roads.
Mr Key says experienced riders, as well as novices, stand to benefit from learning skills like good road positioning.
"I did Level Three when I'd already been cycling in London for a few years, and was surprised to learn that the best way to go round a roundabout was to stay in the middle of the lane – I'd always thought to keep right out of the way," he says.
---
Five riding tips you may not know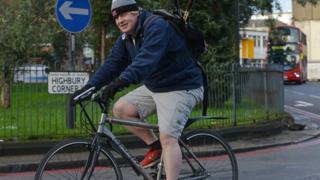 If you are waiting at traffic lights, make eye contact with the driver behind you so they know you are there – especially if it is a lorry
Don't ride closer than 60cm to the kerb – and ride in the middle of the lane where there are parked cars
At roundabouts you should stay in the middle of the correct lane to make sure you are seen, and signal even if you are going straight ahead
High visibility clothing is not enough to stay safe – different lights and backgrounds during the day mean you may be less noticeable than you think
There is no law compelling people to wear helmets – but the Highway Code recommends their use
---
But cycling campaign groups have warned there is already a "postcode lottery" in accessing cycling training – so the idea of a national test is impractical.
"I don't think a cycling 'licence' is necessary, but we're totally in favour of cycle training," says Chris Bennett, head of behaviour change at walking and cycling charity Sustrans.
Bikeability is only available in about half of primary schools in England, while funding for the scheme is devolved in Wales, Scotland and Northern Ireland.
Getting access to free adult training depends on local councils.
All boroughs in London, for example, where the number of cyclists has significantly increased, offer free sessions known as Cycle Skills, with similar schemes run in Greater Manchester, Leicester, Birmingham and Bristol.
Mr Bennett thinks cycling training should be a part of the school curriculum.
"Ideally all year five pupils – those aged nine to 10 – should get training, and these skills would filter into adulthood," he says.
"What's in place at the moment is good and just needs expanding really in terms of a national standard," he adds.
---
What is Bikeability?
Level One – learning to ride while cycling off the road and away from traffic – including mastering pedalling, turning, braking, using gears and looking around you
Level Two – cycling on quiet, local streets over a number of sessions, to learn how to spot hazards, where to ride and how to pass parked cars
Level Three – learn how to ride in different traffic conditions and some dangers – including busier streets, queuing traffic, complex junctions and roundabouts
---
Read more: http://www.bbc.co.uk/news/uk-41346237