Strategy targets legal highs and chemsex – BBC News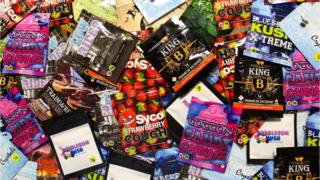 So-called "legal highs" and "chemsex" drugs will be targeted in a government move aimed at cutting illicit drug use.
Figures from the Home Office show the number of 16 to 59-year-olds taking drugs has fallen from 10.5% to 8% in the past decade.
But the department is worried about the use of new psychoactive substances (NPS), performance enhancing drugs and prescribed medicines.
A "national recovery champion" will help users "turn their lives around."
Home Secretary Amber Rudd, who will chair a new cross-government Drug Strategy Board, said: "Since becoming home secretary I have seen first-hand how drugs can destroy lives.
"I am determined to confront the scale of this issue and prevent drug misuse devastating our families and communities."
'Emerging substances'
The number of drug deaths in England and Wales increased by 10.3% to 2,479 in 2015, 14.9% in 2014 and 19.6% in 2013.
NPS, formally known as legal highs, mimic the effects of other drugs, such as cannabis.
Last year, laws were introduced to criminalise the production, distribution, sale and supply of them, but they still fall into the hands of users.

Analysis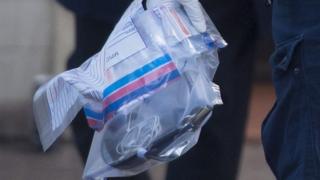 By Danny Shaw, BBC home affairs correspondent
In December 2010, with Home Office priorities centred on police reform and immigration, the last government drug strategy felt like a box-ticking exercise. Just 25 pages long, it contained little detail or original thinking and just one paragraph on the problem that was later to engulf prisons, legal highs.
The theme of the last strategy was supporting people to live a "drug-free life"; it emphasised the need for "abstinence" and said too many users were reliant on drug-substitute treatments such as methadone.
The 2017 strategy makes no mention of abstinence or limiting methadone use, but it is setting more demanding and wide-ranging measurements of treatment success.
At double the length of the previous document, there is a sense that the Home Office is more focused on the issue than before, prompted perhaps by the recent rise in drug deaths and the need to prevent a new generation of drug users sparking a fresh crime-wave.

Chemsex – using drugs as part of sexual activity – often involves crystal methamphetamine, GHB/GBL and mephedrone.
Government studies show the practice increases health risks, both mentally and physically, including aiding the spread of blood borne infections and viruses.
Intelligence and recovery
The strategy will start with a new intelligence system to identify the harm that drugs can cause and to stop their use from spreading.
The scheme will also aim to strengthen border controls, learn from global trends and share intelligence on the substances with other countries.
But the Home Office wants to focus on recovery too, with a "champion" to be appointed to look into helping recovering users find homes and jobs, and to help with their mental health – as well as checking on the success of medical treatments.
"This government has driven a tough law enforcement response in the UK and at our borders, but this must go hand in hand with prevention and recovery," Ms Rudd said.
"This new strategy brings together police, health, community and global partners to clamp down on the illicit drug trade, safeguard the most vulnerable, and help those affected to turn their lives around."
Read more: http://www.bbc.co.uk/news/uk-40597941