Tories 'wrong' on gay rights in past, Theresa May says – BBC News
The Conservative Party has been "wrong" on gay rights in the past – but can be proud of the role it has played in recent years, Theresa May has said.
Marking 50 years since the partial decriminalisation of homosexuality in England and Wales, the PM said she and the party had both "come a long way".
Mrs May said there will "justifiably be scepticism" about the way she voted on some LGBT issues.
PinkNews also carries comments from the Labour leader and three ex-PMs.
The Sexual Offences Act was introduced on 27 July 1967 under Harold Wilson's Labour government.
It decriminalised homosexual acts in private between men aged 21 and over.
Mrs May said: "I am proud of the role my party has played in recent years in advocating a Britain which seeks to end discrimination on the grounds of sexuality or gender identity, but I acknowledge where we have been wrong on these issues in the past."
As an MP in 1998, Mrs May voted against reducing the age of consent for homosexual acts from 18 to 16 and four years later opposed allowing gay couples to adopt.
She was also absent for several votes affecting LGBT rights – but in 2004 backed civil partnerships, and as a member of the coalition government supported a succession of measures including same sex-marriages.
She told PinkNews: "There will justifiably be scepticism about the positions taken and votes cast down through the years by the Conservative Party, and by me, compared to where we are now.
"But like the country we serve, my party and I have come a long way."
'Long journey'
Mrs May's predecessor David Cameron told PinkNews the Same Sex Marriage Act, which legalised gay weddings in England and Wales in 2013, was one of his "proudest achievements".
"Marriage is a great institution and I have long believed that it should be there for everybody; it now is and Britain led the way," he said.
Tony Blair said: "We have come a long way over the last 50 years and it's right to celebrate, but while there are still challenges, such as pupils subject to homophobic and transphobic bullying… there is still further to go."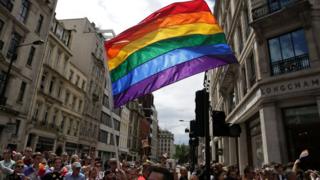 Sir John Major said the act was "the start of a long journey that would have been inconceivable in 1967".
He said: "We are what fate made us. And, whatever that may be, we are entitled to give and receive affection."
In a separate article, Labour leader Jeremy Corbyn said the anniversary was a time to "recognise the great strides towards equality that have been made".
He said: "I am proud of the role the Labour Party played in these advances… but this progress is not down to MPs in Parliament… these achievements belong first and foremost to the LGBT community who have persevered against prejudice for many years."
Mr Corbyn also urged the prime minister to stand up "in the strongest terms" to US President Donald Trump on LGBT issues, saying he had "incited hatred and discrimination".
Read more: http://www.bbc.co.uk/news/uk-40736738