Transgender pupils' rights 'breached'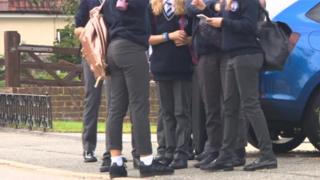 A growing number of families are taking their transgender children out of schools because their rights are being breached, it is claimed.
Some schools are causing pupils stress by not using the name they prefer or enforcing gendered uniform rules, the head of the Good Schools Guide says.
This was leaving families with "no option but to pull transgender children out of a school", says Bernadette John.
Transgender and non-binary pupils have rights under equality laws.
Under the Equality Act, they have the right to:
wear the uniform of the gender with which they identify,
use gender-specific facilities, such as toilets or changing rooms,
be addressed as whichever gender they identify as.
Ms John said: "Sometimes the child is being bullied and the school is not dealing with it appropriately.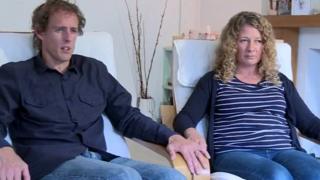 "We also hear that schools are causing transgender children undue stress and anxiety by refusing to allow them to use the name or pronoun they prefer, or to wear the uniform and use facilities for the gender they identify with."
It comes not long after a family took their children out of a school on the Isle of Wight where a pupil changed gender.
A growing number of young people are presenting with gender identification that is neither male or female, or a combination of both, and schools are at the front line in dealing with this.
Teaching unions have been calling for schools to address the issue more sensitively.
'Compassionate response'
A consultancy arm of the Good Schools Guide works with families to find new schools for parents for a variety of reasons.
It said it was starting to see a small but growing number of families seek help over transgender issues.
"There are schools out there which rightly feel it matters a great deal if a child is uncomfortable in his or her skin, and respond compassionately," Ms John says.
In an article for the latest issue of a magazine called Absolutely Education, she writes that while the best schools often have plans in place for children with gender dysphoria, problems can arise outside of school.
"Parents are grappling with how to respond, both when the child concerned is their own and when it's their child's classmate, as the recent furore in the Isle of Wight shows."
She also highlights the "tremendous anguish" that children who are not allowed to express their true identity can feel, with some resorting to self-harm or even suicide.
Geoff Barton, head of the Association of School and College Leaders, said he was "extremely concerned" to hear of these reports about the treatment of transgender children.
"We represent nearly 19,000 school and college leaders and our experience is that they are acutely aware of the need to protect the rights of every child and to support their individuality."
Read more: http://www.bbc.co.uk/news/education-41333232