Trump Administration Could Permit Oil Companies To Assault' Marine Life
The Trump administration took a major step forward Monday in its pledge to expand offshore oil and gas drilling in the Atlantic Ocean by greenlighting a process that could wreak havoc on marine life and coastal communities, scientists say.
The National Marine Fisheries Service drafted five Incidental Harassment Authorizations, which would let five drilling companies injure or disturbfish and marine mammals as the companies search for oil and gas deposits off the East Coast for a one-year period.
Seismic surveying involves mapping fossil fuel reserves deep beneath the oceans surface by firing extremely loud bursts of compressed air through the water. The blasts can travel hundreds of miles and occur every 10 to 12 seconds for weeks or even months.
Seismic testing is the precursor to drilling, Michael Jasny, the director of the National Resources Defense Councils Marine Mammal Protection Project, told reporters during a press call Monday. But seismic [testing] alone is a serious assault on our coast and oceans.
Marine biologists and environmental advocacy groups warn the dynamite-like noise could threaten vulnerable marine ecosystems and wildlife, especially the critically endangered North Atlantic right whale, of which only about 500 remain.
Dr. Doug Nowacek, a marine scientist at Duke University, said mother-calf pairs of these whales use very quiet vocalizations to maintain contact and affectnursing behavior.
We are quite concerned that further increases in anthropogenic noise from seismic surveys or other things could disrupt this vital behavior and separate calves …from their mothers, Nowacek said in his call.
In 2015, 75 marine scientists, including Nowacek, warned that seismic surveying off the East Coast would likely have significant, long-lasting and widespread impacts on the survival of fish and marine mammal populations in the area.
But scientists say animals arent the only populations at risk from seismic blasting. The process can substantially reduce catch rates for fish, according to Nowacek, harming the multibillion-dollar commercial and recreational fishing industries.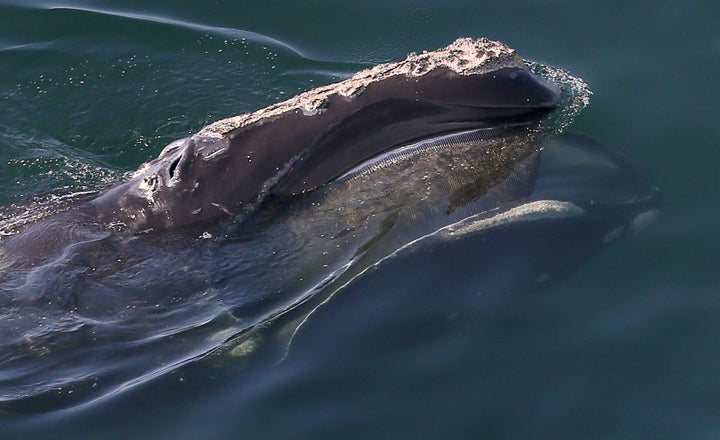 The fact is that seismic blasting and the drilling that follows represent a serious threat to the coast and oceans and the communities that depend on them, Jasny said. It makes no sense to risk these jobs-intensive industries, our beaches, our marine environment and our clean energy future for the sake of big oil profits.
The approval follows President Donald Trumps executive order in April to expand offshore energy drilling by rolling back the Obama administrations rejection of the permits in January, part of an attempt to ban oil and gas drilling off the East Coast for at least five years.
Authorization of the permits will face a 30-day public comment period. If approved, Jasny predicts, the five companies could begin seismic surveying as early as this fall.
The fisheries service is part of the National Oceanic and Atmospheric Administration, which falls under Secretary Wilbur Ross Commerce Department.
Read more: http://www.huffingtonpost.com/entry/donald-trump-seismic-testing-oil-drilling_us_59358f20e4b0099e7fae0045