Twin pilots retire by landing together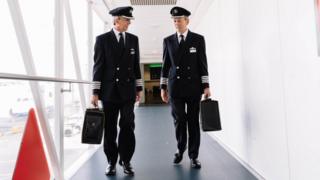 Twin brothers have retired as airline pilots, landing their final flights 30 seconds apart.
Captains Jeremy and Nick Hart marked their 60th birthdays on Thursday by landing their planes together at Heathrow Airport.
Jeremy from Flitton in Bedfordshire described retiring alongside his brother as "a good way to finish".
Nick from Banbury, Oxfordshire, said: "Like every aeroplane has its last landing, so does a pilot."
'Fitting finale'
The pair, who were born 30 minutes apart and have clocked up 45,000 flying hours between them, said they had often been mistaken for each other during their careers but never flown together because they were both captains.
Jeremy joined British Airways 30 years ago in 1987, while Nick joined from British Midland in 2012 when it was taken over by BA.
Nick said: "Jerry had never mentioned to his colleagues at British Airways that he had a twin brother who flew for British Midland, and one day [years ago] a British Airways pilot strode over to me at Heathrow and asked what on Earth I thought I was doing dressing up in a British Midland uniform.
"It took a bit of explaining to convince him that I wasn't Jeremy."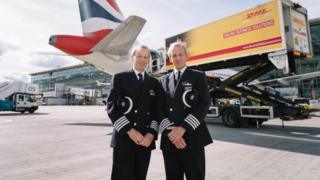 Jeremy, who landed an Airbus A320 at 12:34 BST from Gothenburg, Sweden, said: "I've spent more than two and-a-half years in the air – a lot of it in the holding pattern over Heathrow."
Nick, who flew from Geneva, landing at 12:35, said: "I've done 28 years short-haul flying. That's about 11,000 flights. It's at least 1.2 million passengers."
British Airways' head Airbus pilot James Basnett said: "They arrived in the world 30 minutes apart, flew the same aircraft in the same airline, and then departed in the same manner that they arrived – minutes apart.
"A fitting finale to long and impressive careers and I know that they will be sorely missed on the fleet."